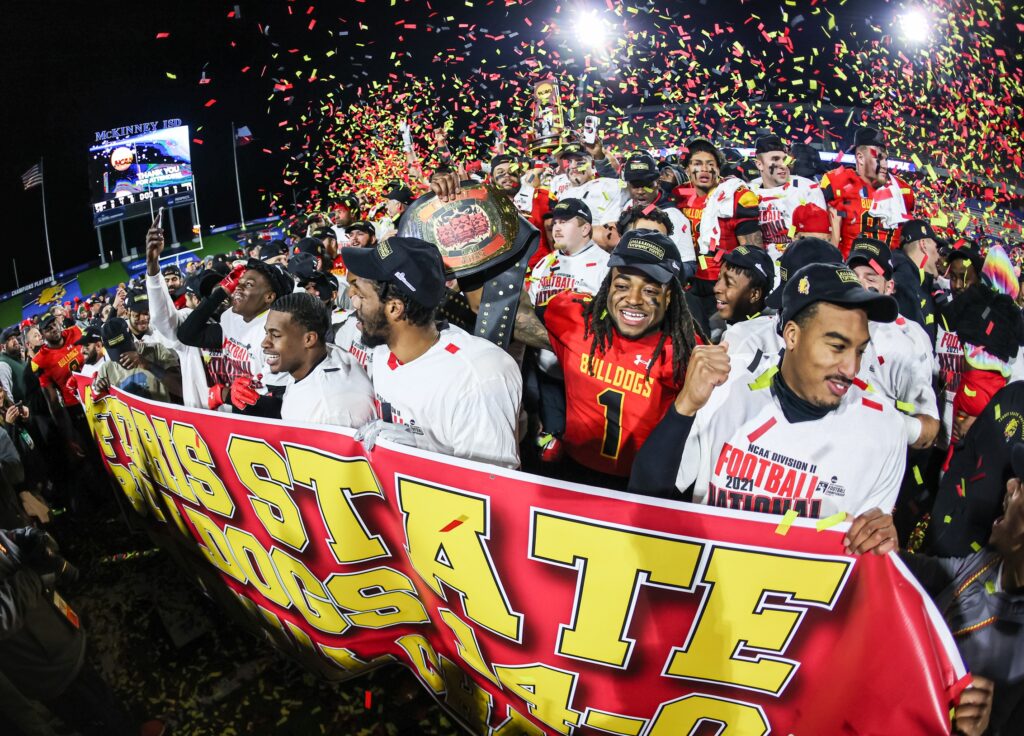 Thousands of Ferris football fans watched their team roll to a 58-17 win over Valdosta State inside McKinney ISD Stadium the last time the Bulldogs took the field. That win gave the Bulldogs their first ever Division II Football National Championship.
As the upcoming season nears, fans, players, coaches and alumni want to feel that euphoria again.
While it may be tempting to focus on the success of last year's campaign, head coach Tony Annese continues to tell the media that this season is being conducted with the same procedures.
"It's been the same process for the time I've been here," Annese said to the media. "You can't put any unneeded pressure on yourself. We've been extraordinarily good at focusing on preparation."
Ferris will open the 2022 season with two games against a pair of playoff teams from a year ago. The season opener on Sept. 1 will be against Central Washington University, who finished 8-3 after failing in the Central Region opening round against Northwest Missouri State. The Bulldogs last played the Wildcats in 2019, where they won the nationally televised game 62-28.
In Week two, the Bulldogs will travel to Hickory, North Carolina, to take on Lenoir-Rhyne. The number 16-ranked Bears finished fifth in total offense last season, trailing only Henderson State, Shepherd University, Valdosta State and Ferris. Then the Bulldogs will round out their non-conference schedule with a homecoming match-up on Sept. 24 against Waldorf University, and a Week four trip to Ohio to face long-time rival Findlay.
For the conference schedule, the Bulldogs will begin with a road trip to Saginaw Valley State, who took Ferris to a 47-45 thriller in 2021. Oct. 15 will be a highly anticipated matchup: the AnchorBone Classic at Top Taggart Field against number four ranked Grand Valley State.
Ferris will stay home the following week to face Michigan Tech and then travel to Northern Michigan the next week. The Bulldogs will finish the regular season with a Nov. 5 home bout against Davenport and a road trip to Wayne State on Nov. 12.
"It's been a huge challenge to get anyone to play us with the GLIAC shrinking," Annese said. "We're happy to get non-league opponents that are willing to play us."
On the offensive side, eyes will certainly be on the quarterback position. After the departure of current Atlanta Falcon Jared Bernhardt, the reigns will be handed over to former Kent State quarterback Mylik Mitchell. The John Hay High School standout started in three games for an injured Bernhardt, including a Week five game against Northwood where he threw a program record of 508 yards and six touchdowns.
Based on Annese's history of using multiple quarterbacks, there will likely be snaps given to senior Evan Cummins and even sophomore Jesse Rivera.
"One big thing we are focusing on right now is getting the ball to the right places," Mitchell said.
While the Bulldogs did lose Sy Barnett, who transferred to Division I Samford University, starting receivers Xavier Wade, Marcus Taylor, C.J. Jefferson and Tyrese Hunt-Thompson returned.
Senior Jeremy Burrell and Carson Clark will be the likely front runners to lead the backfield this fall. Former basketball player Mason Pline will remain the top tight end on the depth chart followed by Brendan Siwajek and Keidren Davis.
Ferris did lose a number of key players on the offensive line, including NFL invitees Zein Obeid and Dylan Pasquali. There will certainly be plenty of talent and experience to fill the holes around veteran Adam Sieler and Marouf Hamade.
"We've got a lot of young talent coming in," Hamade said. "Everybody has been doing their role and there are no egos on this o-line."
For the defensive side, the team will be led by 2021 Cliff Harris Award finalist and sophomore defensive end Caleb Murphy. He will be joined by junior Ian Hall, senior Jordan Jones, senior Austin Simpson and senior Olalere Oladipo.
The linebacker position will certainly be up for grabs this offseason after the departure of seniors John Higgins and Liam Daly. The favorites to fill the chart are a trio of sophomores: Chaise Ford, Jason Williams and Konnor Near. In the secondary, the Bulldogs return four starters that contributed to the second-most interceptions in Division II last season. This includes Cyntell Williams, Sidney McCloud, Caleb Smith and Major Dedmond.
"Going into last year, I didn't think I was going to play too much," Smith said to the media. "After getting some playing time, I'm feeling really confident going into this year."
All in all, there are many reasons to believe the Bulldogs will have another successful season. As many players return to the field with experience from the ring season, a tougher non-conference schedule and brand-new ticketing and stadium resource systems, fans will be filing into Top Taggart Field in major numbers this season.
This season will certainly be one of the most anticipated seasons ever, and fans should be excited as the Bulldogs step foot on the gridiron on Sept. 1.
For more sports coverage, be sure to follow the Torch newspaper at fsutorch.com.