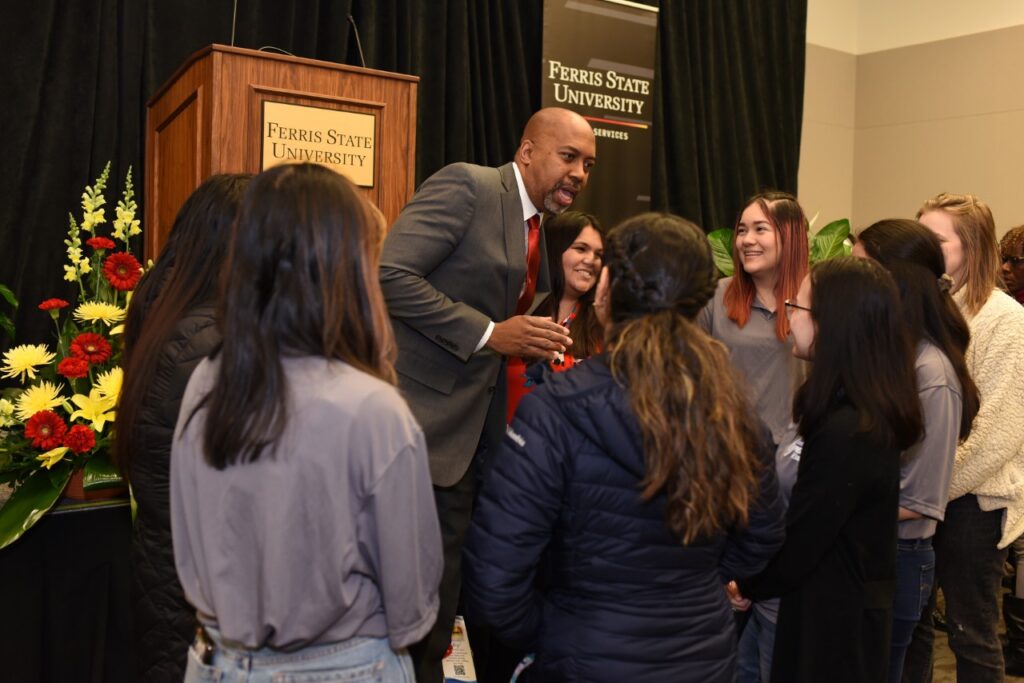 Wednesday, Aug. 31 marks the beginning of President Bill Pink's "Link with Pink" tour.
Less than two months into his presidency, Pink is embarking on an eight-stop tour through Michigan. He is looking to interact with Ferris alumni by sharing his plans and listening to their stories in order to "shape and build the future of Ferris."
Pink's vision for Ferris may be "bold," according to the "Link with Pink" website, but the stops on this tour are intended to facilitate casual meet-and-greet conversations over appetizers. Pink is set to speak at Cranker's Brewery at 6:45 p.m. on Aug. 31, with the event running from 5:30 p.m. to 7 p.m. The alumni and friends in attendance will have a chance to get to know the new president as he learns how Ferris impacted their lives.
Sandy Gholston, Ferris' social media manager, reports that the president wants students to feel like valued members of the Ferris community before and after graduating and "leaving to make a difference in communities across Michigan and around the country."
"There's no better way to understand a university with the long history that Ferris has than by meeting and listening to the people who experienced it and who know it best," Gholston said. "Our alumni are among those people. As we work to move Ferris forward, that effort is not possible without knowing and understanding the alumni experience."
The president will spend September traveling to Flint, Detroit, Traverse City, Grand Rapids, East Lansing, Midland and Kalamazoo. Alumni and friends are not charged to attend "Link with Pink" tour stops, but they are expected to register in advance. Gholston explains that these locations were selected because they have strong alumni bases and long-lasting partnerships with Ferris.
For those unable to attend a "Link with Pink" event in person, the tour will conclude with a Virtual Conversation on Thursday, Oct. 13 from 7 p.m. to 8 p.m. Register on the "Link with Pink" website or Ferris event calendar to join the president in a reflection of his first three months on campus and his plans looking forward.
"I think the challenge is what excites me… [I want] to wrap our arms around the challenges together," Pink said in the "Meet the New President" video series.
Collaboration is paramount to Pink's administrative philosophy. A self-proclaimed "deep believer in student voice," he wants to listen to current Bulldog's stories just as he plans to for alumni on this tour. Through the good and the bad, Pink sees value in understanding where students are in their Ferris experience.
"People want to have their voice heard and make sure that leadership is listening," Pink said. "I get it. Sometimes we can make some really big changes, sometimes a minor change, sometimes the change happens over time. But I just want our students in our campus community to know that the listening ear is there."
The "Link with Pink" tour was a collaborative project between multiple offices on campus. Brandi Behrenwald, director of Alumni Relations, explains that it was a priority to have the new president interacting with alumni across the state as soon as possible. She even hopes to see Pink on a regional tour this winter, interacting with alumni from Florida to Colorado.
"President Pink has an enthusiasm that is contagious," Behrenwald said. "He lights up a room when he walks in. When you hear him speak, he grabs everybody present in the room."
This is only the beginning of the president's journey with the Ferris community. Visit the Ferris event calendar and check back in with the Torch for further updates from the new administration.