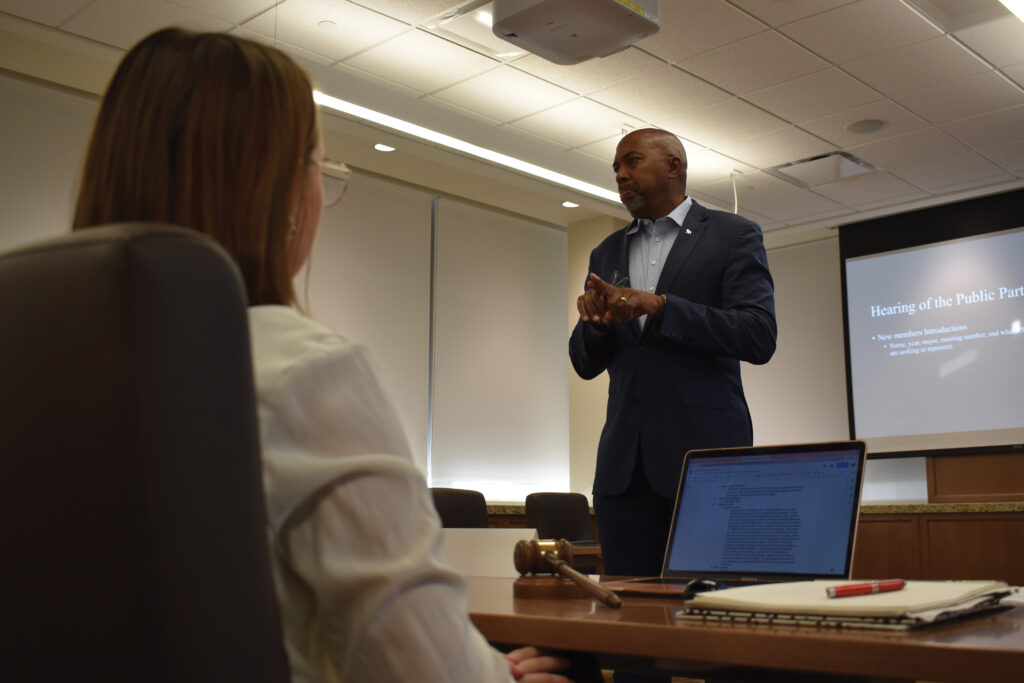 Ferris' Student Government Association began the 2022 academic year with hope for growth and collaboration on Tuesday, Aug. 30.
Psychology senior MaeLynn Huhn led her first general assembly as this semester's SGA president last week. She began her SGA journey as a representative for Ferris' Alpha Xi Delta sorority.
"One of my goals for this semester is to increase overall involvement on campus," Huhn said. "I joined one organization, which led me to joining another one, then another… And that's honestly what made me stay at Ferris—the opportunity to get involved and make a difference."
Director of public relations, director of philanthropy and director of internal assessment are three vacancies that SGA would like to fill in the coming months. According to Jeanine Ward-Roof, the vice president for Student Affairs, SGA has "plenty of space, plenty of room and plenty to do."
While introducing SGA members and attendees, Huhn called upon President Bill Pink for "words of wisdom," to which he jokingly responded, "and who will be doing that?"
Pink spent part of his day riding around campus via golf cart, handing out Starbucks gift cards and helping students get to class. He then shared with SGA how much he enjoys seeing students back on campus for the fall semester.
"I have students that apologize for interrupting me on the sidewalk," Pink said. "[Students say,] 'Hey, I'm sorry to interrupt you, and I'm sorry to interrupt your work.' You are my work. You are never an interruption to me."
In order to understand what Ferris student life is like, Pink believes that forming a strong relationship with SGA is of the utmost importance.
Accompanying Huhn were Vice President Cassidy Engles, a junior representing Allied Lab Sciences, and Administrative Assistant Allison Leslie, a pre-med junior representing Phi Sigma Sigma. Representatives from various sororities, registered student organizations and programs were also in attendance.
During executive reports, Engles explained that all SGA members will now be expected to join an external committee. These are smaller, more specialized subcommittees. Other changes were addressed through revisions to the Mandate of Internal Assessment, but they have yet to be voted on.
In order to expand membership, Huhn proposed reducing requirements in the potential member process. New RSO representatives would no longer need to turn in signatures from their president and nine-tenths of their fellow RSO members to join. Similarly, college program senators would also lose a signature requirement.
Members of SGA are eager to engage with the student body on a campus without COVID restrictions, and they hope to pick up new members along the way. Administrative Assistant Leslie, only one week into her position, has seen other organizations struggle with membership this semester as well.
Being in several RSOs herself, Leslie hopes students do not hesitate to join SGA because of the perceived workload.
"It's definitely not too much of a [time] commitment," Leslie said. "I'm in three RSOs, I have 16 credit hours [and] I'm a pre-med student. So, I keep very busy. [SGA] has made me be more involved in campus than I ever thought I would be, and I really appreciate that."
Looking ahead, SGA will continue to meet weekly in the David L. Eisler Center's Founders' room on Tuesdays at 6:30 p.m. They will also be joined by President Pink for the "Let's Taco 'Bout Ferris" event on Thursday, Sept. 15.