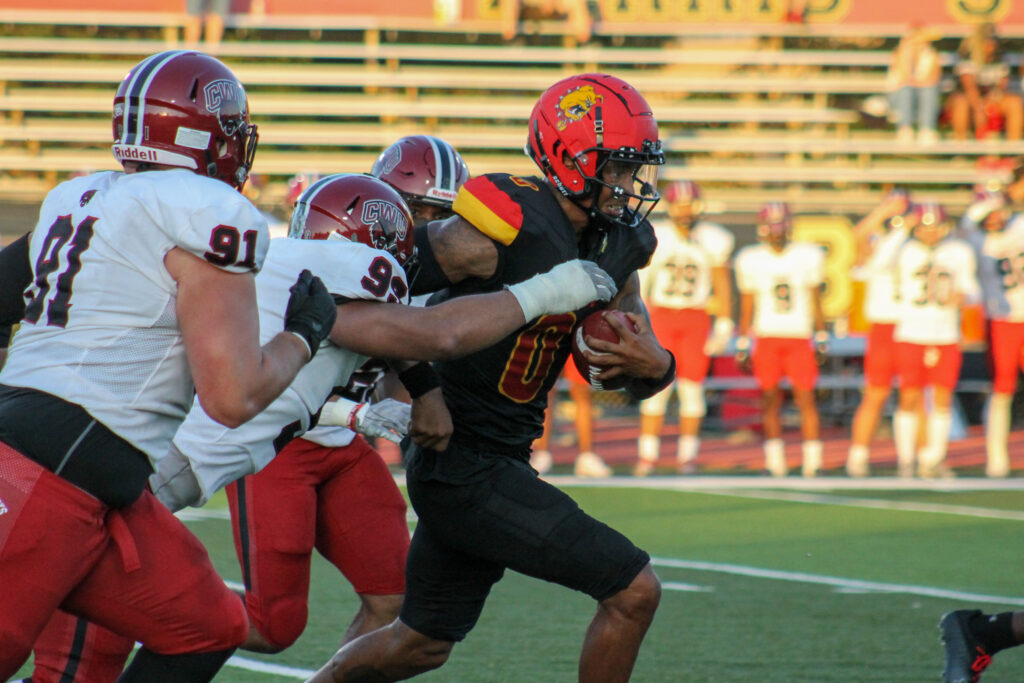 As reigning national champions, Ferris football entered the 2022 season in unfamiliar territory.
Their first ever title defense game pitted them against a 2021 playoff team in Central Washington. Ferris beat the Wildcats 62-28 back in 2019.
On Thursday, Sept. 1, the Bulldogs accrued 13 penalties for 119 yards, the most penalties in a game for Ferris since they had 16 in Week 6 against Grand Valley last year. While the game was not as clean as the Bulldogs had hoped, head coach Tony Annese made sure to give credit to their opponents' tenacity.
"There are 28 teams that make the playoffs in Division II, and they were one of them last year," Annese said. "I thought they played really hard and made it tough on us."
Unlike last year's scheme that emphasized the run game, the Bulldogs focused on throwing the football early and often in the contest. After three scoreless drives to begin the game, Mylik Mitchell delivered
a pass through the hands of a Wildcat defender and into the arms of senior receiver Xavier Wade for a 64-yard touchdown.
Central Washington responded on the following drive with a touchdown pass of their own, which was set up by a personal foul on Ferris to give the Wildcats a first down. The Bulldogs finished the game with four 15-yard personal foul penalties.
On the ensuing possession, after going down 10-7, Ferris settled in offensively with an eight play, 78-yard scoring drive, which was capped off on an 11-yard jet sweep for a touchdown by Marcus Taylor. The defense forced a short Wildcat punt, setting up a run-heavy drive, resulting in their third touchdown of the night eight plays later. It was Evan Cummins who found the endzone on a third-and-goal quarterback run, but freshman Eddie Jewett missed the extra point. The Wildcats added a field goal before the half to cut Ferris' lead to 13-10.
Ferris forced a punt to start the second half, and the offense took over. Mitchell completed all three of his passes for 54 yards, James Coby added 13 rushing yards and Mitchell ran a two-yard touchdown in to give Ferris a 20-10 lead.
"They were playing two high safeties most of the game, so we got some RPO's going to get guys in space," Mitchell said on the second half adjustments. "We just took advantage of what they were giving us."
The Bulldog defense locked down the Wildcats the rest of the way. Central Washington finished with 115 yards and seven points on eight drives in the second half. Ferris registered seven plays for negative yards, including four sacks.
"I think we didn't play up to our standards, starting off the game as a defense," Olarere Oladipo said. "We came out in the second half and brought pain to Central Washington."
Ferris added an insurance touchdown later in the fourth quarter, courtesy of a fourth down run by redshirt freshman quarterback Carson Gulker.
Mitchell led the Bulldogs with 339 yards passing, completing 19 of 29 attempts and adding one touchdown. Mitchell also led Ferris with 34 yards rushing and
a score on 18 attempts. Taylor added 31 yards and a touchdown, while Emari O'Brien and Coby added 30 and 24 yards, respectively. Tyrese Hunt-Thompson paced the Bulldogs with 97 receiving yards on six catches, followed by Wade with four catches for 94 yards and CJ Jefferson with 87 yards on three receptions. Jewett went 0 for 1 on field goal attempts and converted four of five extra points.
"We had the ball a lot, having 83 plays to their 58. We had a lot of negative yardage plays, but I'm not discouraged by our offense," Annese said.
On the defensive side, Konnor Near led Ferris with six total tackles, followed by Major Dedmond with five and Caleb Murphy and Jason Williams who each added four. Tayvon Hughes registered 1.5 sacks on the night, and Dedmond added the other 0.5. Oladipo and Jovan Bayless added one sack each. Jacarvis Alexandre registered two pass break ups, while Vince Cooley and Ade Kilpatrick added one.
"This defense should be lights out for us," Annese said. "We will lean on them until we feel comfortable on offense."
The Bulldogs will travel to Hickory, North Carolina to face 22nd-ranked Lenoir-Rhyne on Saturday, Sept. 10 at 1 p.m.