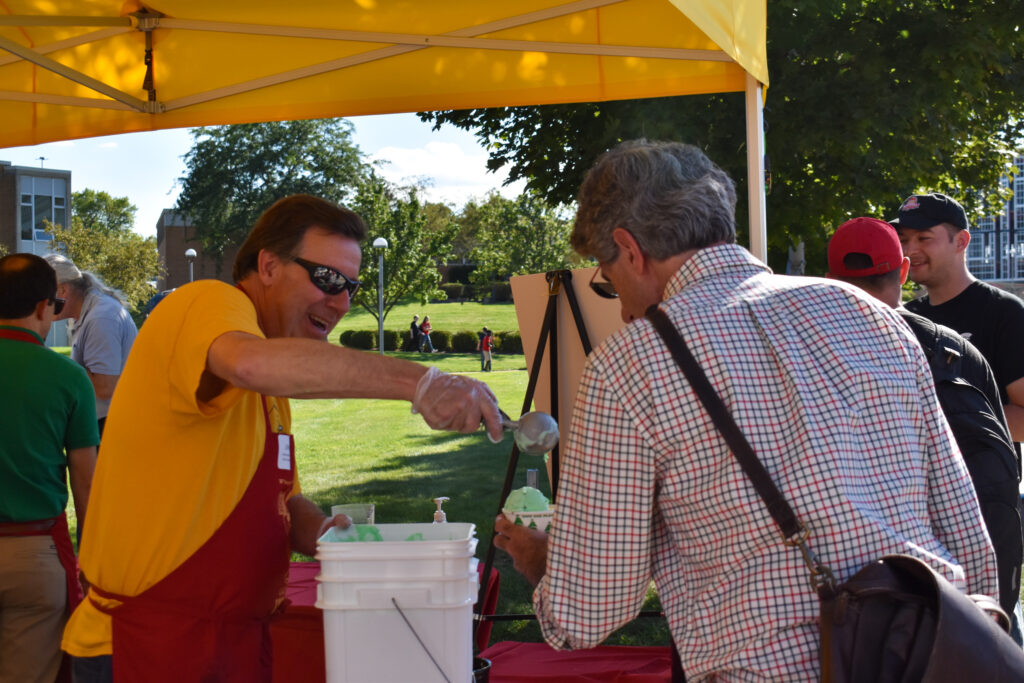 Crowds of excited students and an enthusiastic president gathered for the annual celebration of Woodbridge and Helen Gillespie Ferris.
On Thursday, Sept. 1, Ferris celebrated Founders' Day 2022. The festivities kicked off at 11 a.m. in the David L. Eisler Center, where President Bill Pink spoke to an overflowing room of students, faculty, staff and community members about his hopeful plans for the future of Ferris.
Pink's speech began by explaining how he has been getting used to Ferris for the past eight weeks, and he told a story about Woodbridge and Helen Gillespie Ferris and the very beginnings of what is now an expansive university. He then reflected on topics including student enrollment and success, campus development, leadership development and so much more.
After the speech, students, staff and community members gathered on the Robinson Quad for a beautiful day of celebration. One could tell by looking around that it was going to be a pleasant day filled with lots of food, ice cream and free prizes from various registered student organizations.
President Pink explained why students should care about the importance of Founders' day and the Ferris family's progressive philosophy.
"[Founders' Day] has a focus on folks that have come from this area 130 years ago and the vision they had. When you look at what they said and did for this area, we talk about things 130 years ago that weren't advocated for at the time. The importance [of] today is that while these ideas weren't loved by everyone years ago, they are now," Pink said.
Numerous student and local organizations had tables set up with free literature about their groups. Church organizations, sororities and the Student Government Association were among them. Many of these organizations distributed free items including shirts, drinks, coupons, snacks and ice cream.
"Founders' day was one of the first big events I got to be involved with on campus," freshman Elizabeth Ainsle said. "I was able to meet new people, bounce on the bounce house and eat good food. Being a college student, I also loved the free things people were passing out. It was a friendly event, and I can't wait for next year's. It was fun to watch my first college football game as a college student today and watch the Bulldogs win.
Pink also spoke about what he plans to do with Founders' day down the road.
"Part of what I'm doing today, and what I'm doing my first year, is I'm seeing what we are doing and [I'm drinking] it in… When [it is] over, [I will] have an evaluation and talk to staff and students, [but] I want to experience it first. That's my way to say [there is] more to come and stay tuned," Pink said.
Founders' Day ended with the season opener of Ferris State football, starting their Division ll Nation Championship defense by destroying Central Washington 36-20.