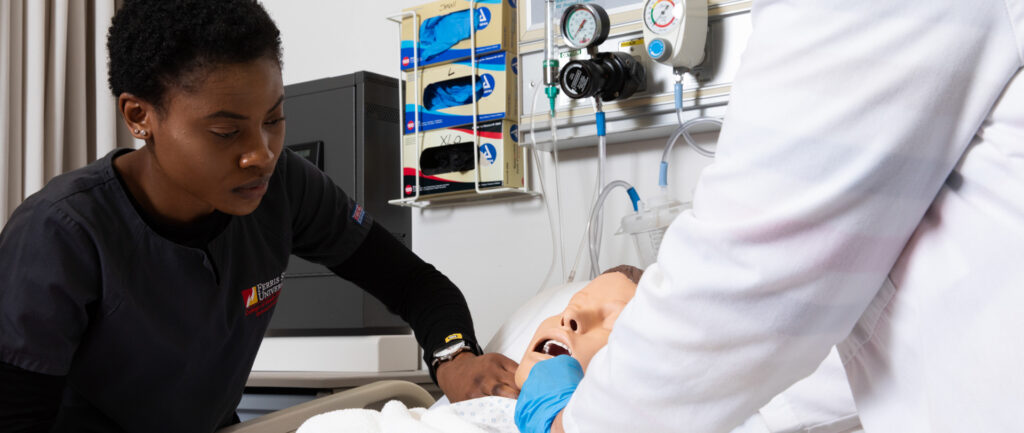 This past summer, the School of Nursing announced that they added a third cohort to their clinical nursing program to combat the nursing shortage.
A cohort is a name for a class of students studying the same major. Students in a cohort will stay together throughout their time in the nursing program, which is typically a year and a half. This allows students to study together, learn together and lean on one another when the classes get tough.
"We previously only did two cohorts," Wendy Lenon, the School of Nursing's chair, said. "We would admit in the fall semester and the spring semester, and now we admitted our first third cohort in the summer of 2022. We have gone from 64 students to 96, and that was really in response to meeting the needs of our students, as well as meeting the needs of the healthcare and nursing workforce."
According to the University of St. Augustine for Health Sciences, there is currently a nursing shortage across the U.S., and it is expected to last until 2030.
To visualize the shortage of nurses in the country, the study took the population of every state and compared it to the number of registered nurses currently working to calculate the number of RNs available per 1,000 residents. In 2019, Michigan's population was at 9,987,000, and in 2020 there were 137,500 working RNs. Meaning, there are roughly 14 RNs for every 1,000 Michiganders.
Although the statistics are a few years old, the demand for nurses is not. In fact, it has increased drastically, and nursing has become the fifth most-demanded job in the U.S. Lenon says the shortage of nurses is due to multiple reasons, such as the strain caused by the COVID-19 pandemic, retiring nurses and an increase in the number of individuals that need nursing assistance.
"This is something that we knew was coming, and we're just working to respond to that as quickly as we can," Lenon said. "So all schools and universities are looking to do our part to be able to help impact them."
Illinois State University is another university that is trying combat the shortage. In a news report done by ISU, they announced they would be collaborating with Memorial Health to open a new nursing location under the university's Mennonite College of Nursing.
The report also explained that a recent report from the American Association of Colleges of Nursing says 80,407 qualified nursing applicants have been turned away from baccalaureate and graduate programs in 2019 due to the inadequate number of faculty, clinical sites and classroom space. This contrasts sharply with the growing demand for nurses.
At Ferris, Lenon believes that with the addition of more students and the faculty they have, students will be prepared to carry out their duties well when they enter the medical field.
"The program is pretty much all-encompassing, as far as covering things that nurses do," Lenon said. "We do a good job of giving the students kind of a little glimpse of the multiple roles that nurses are able to carry out during the practice. [We] do a good job preparing our students so they are quality nurses when they're out in practice as well. Our faculty are great. They're dedicated to the success of the students."
Rebecca Welsh is a current nurse who graduated in August of 2022. Welsh says she enjoyed her time in the Ferris nursing program, and it was all thanks to the faculty helping her reach her goals.
"The professors in the nursing program are so supportive," Welsh said. "They understand that we have lives and things outside of school. They are really understanding when things happen. I had COVID, and they were very supportive in helping me get my assignments and giving me extensions."
Welsh currently works with Spectrum Health Facilities and owes a lot of her preparation to the coursework her professors assigned to her during her studies.
"We had a lot of hands-on labs at Ferris, and we did a lot of clinicals at Spectrum," Welsh said. "It was nice to know the Spectrum policy, and we're able to be familiar with the Epic system, which is how we do all of our documentation. That was really helpful with my transition into my new role as a graduate nurse at Spectrum."
Welsh says having these experiences in and out of the classroom helped her the most in being prepared for all that she has to experience in the facilities she now works in.
With a combination of more students being added via a new cohort and faculty ready to teach them, the School of Nursing believes they are ready to form the next generation of nurses.