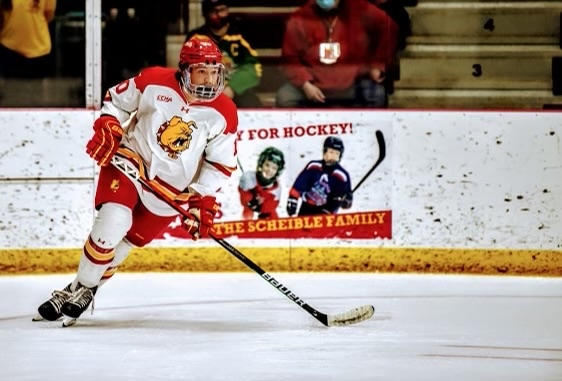 Bradley Marek and Ferris hockey were seemingly destined to meet ever since Marek started skating back when he was a child.
Since then, he's won CCHA Rookie of the Year and a spot on the CCHA All Rookie team.
Marek, a Big Rapids native who is entering his second season with the Bulldogs, had many hockey influences growing up. His father played hockey for Ferris, and his cousin played junior hockey in British Columbia.
"Hockey has been around my life forever," Marek said. "It's always something that just came kind of second nature to me, and it's been a huge part of my life. Whether it's been through school and just getting away and clearing the head or just realizing you have a dream."
Marek's hockey journey began when his parents put him in the sport at the age of four. Later in his career, he traveled down to Grand Rapids to play travel hockey until he was 15. After travel hockey, Marek began his stint in the United States Hockey League (USHL). He moved around from Bloomington, Illinois to Youngstown, Ohio. Eventually, he returned to Michigan to play for the Muskegon Lumberjacks.
After his time in the USHL, Marek got the offer he had been waiting for.
"He had the opportunity to play at other universities and declined because he was really waiting for the opportunity for Ferris to come forward with an offer. He was incredibly thrilled that they did," Marek's mother, Danielle Martin, said. "He signed his letter of intent on what would have been his grandfather's birthday. Everything about it felt right, and we've been so happy with his experience here and what he's been able to accomplish."
In his first year with the Bulldogs, Marek tallied 19 points in 36 games. He also led the team with seven power-play goals.
Marek established a strong connection with all his teammates, but he specifically mentioned how senior forward Brenden MacLaren took him under his wing.
MacLaren described Marek as humble and very inviting, and he told a story that demonstrates Marek's pride as a Bulldog.
"We were playing Canisius in Buffalo last year," MacLaren said. "We had lost Friday night's game, and we were on a little bit of a skid. Our leadership group and us all had a meeting together at the hotel, and he was the one and only freshmen that spoke up during that meeting. He was saying how we all have to play with more passion and actually want to be there and represent Ferris as a winning team and that we shouldn't be okay with losing. He said that all he wanted growing up was to play for Ferris."
As an unexpected first round exit from the CCHA playoffs dashed any hope for a run, the Bulldogs entered their offseason. For Marek, the offseason included an invitation to the Arizona Coyotes' development camp.
"It was a great experience," Marek said. "I learned a bunch from each one of their coaches… From the nutrition side of things to different skating styles from their skating coach."
Marek was very honored and thankful to those who helped get him to the development camp. Marek also added that, although he was used to everything hockey, he couldn't help getting giddy from being at a professional rink and seeing NHL players.
Marek spoke heavily on the support he received growing up, mentioning that his mother worked more than one job to make sure he was able to keep playing hockey.
Marek's mother was taken aback by the fact that he had even mentioned the work she put in.
"The fact that he even mentioned [me] speaks to his caliber of a person and his appreciation for what others have done for him along the way," Martin said. "He could have just said, 'Oh, I worked hard,' but the fact that he didn't makes me really proud as a mom."
Marek's humility and pride distinguishes him as a Bulldog. On top of this, he maintains a level of competitiveness. If the entirety of the CCHA was in a room with Marek, he tell them to, "Just be ready. We're coming."