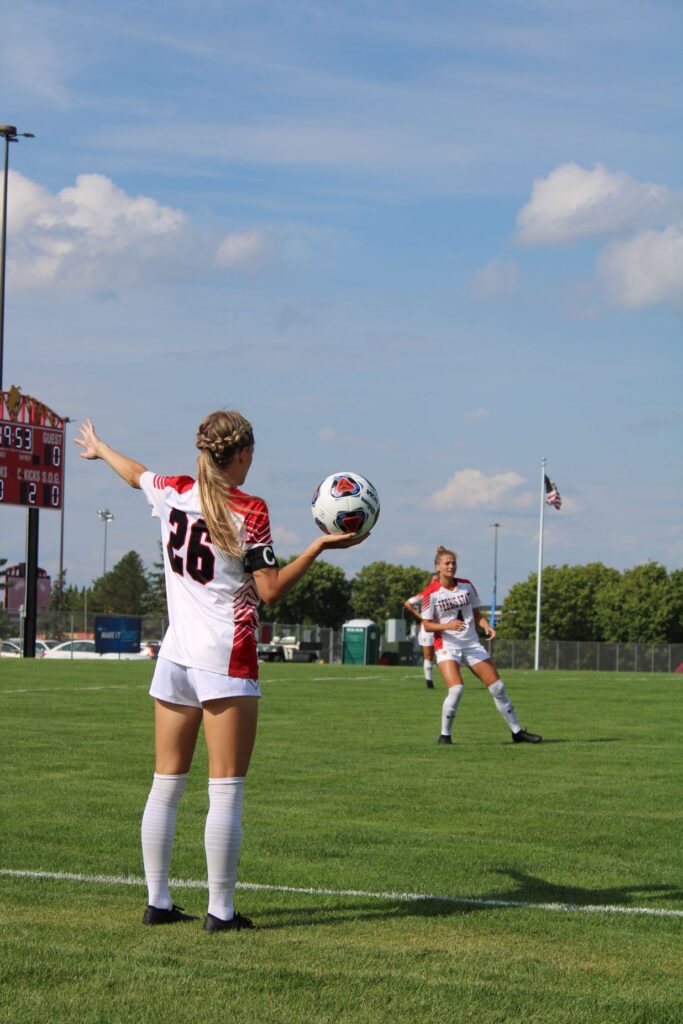 The Bulldogs ended their two-game losing streak to start the season with a win over Walsh on Sunday, Sept. 4.
Ferris (1-2-0, ranked #17 nationally) recorded a 2 – 0 win. Both goals came from Isabella Zamborini in the first half of play.
"It just feels great. I know the team's been waiting to put one up there," Zamborini said. "It was a good one for us. I think we're ready to come in strong next week."
Zamborini described the game as "rough and tough" and noted the battle did not end until the match did.
Ferris put 21 shots on Walsh's goalkeeper while also playing a strong defense, allowing only five shots from Walsh.
"It's a game that we came out wanting to establish the pace and keep possession," head coach Greg Henson said. "I thought we did a really good job with that in the first half. It resulted in us getting a couple of goals on the board which was huge."
Henson noted there were some things the Bulldogs needed to clean up in what he deemed a "sluggish" second half.
"We got that monkey off our back. We got the win today. Now we have to focus on the conference," Henson said. "We get Grand Valley right off the bat. It's a big test for us but we have them here and we look to come out strong and give them a good showing and a good game."
Before picking up their first win of the season, Ferris lost to Ashland in their home opener on Friday, Sept. 2.
A hard-fought, defensive slugfest left the Bulldogs on the wrong side of the scoreboard in a 1-0 game against the Eagles.
After coming home from what should have been a three-game, season-opening road trip (only one game was played due to weather), the Bulldogs faced a challenging opponent in Ashland, who, like Ferris, made it to the national tournament a year ago.
Ferris had no problem letting the ball fly, adding 16 shots before the final whistle compared to 12 for Ashland. However, of those 16 shots, only three were on frame, which gave Ashland's goaltender Brianna Rogers little adversity in front of the net.
"We just have to get more shots on frame. I don't think we tested their goalkeeper at all today," Henson said. "We have to figure out how to make the possession turn into offensive chances."
Despite the defense holding the Eagles to fewer total shots, it did not take long after halftime for the scoring to open up. Ashland's McKinley Meddenhall found the back of the net after a scrambling sequence of shots just five minutes into the second half.
The Bulldogs were unable to even the score at the final whistle. Eight players from Ferris found themselves on the box score with at least a shot a piece. Senior Brinley Bell led the team with four shots on her own, followed by Jessie Bandyk and Avery Comartin with three shots each, and Zamborini ended the contest with two shots.
This early season test gave the Bulldogs a chance to find their footing before conference play. Not to mention a network of players who can make a difference once they return healthy from the injured list.
"Hopefully we can get a few more legs back and a few more players back off of the Injured Reserve list. But really the focus for us is really just to move forward and take steps forward," Henson said.
Ferris will take on its biggest rival in Grand Valley at home next week Friday at 4 p.m.
Opinions Editor Dylan Rider contributed to the reporting of this story.