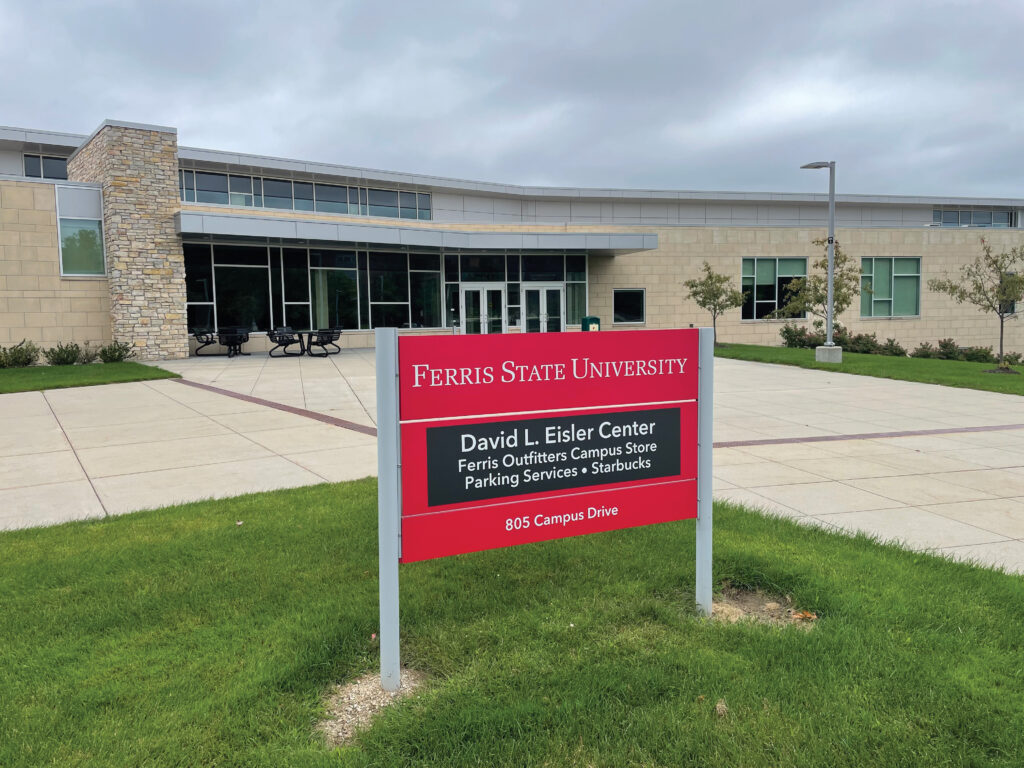 On June 29, the board of trustees voted to rename the University Center the David L. Eisler Center after David Eisler, Ferris' longest tenured president, retired.
The use of Eisler's name on a campus building, part of campus or some facet of Ferris was inevitable, however, the immediate renaming of the University Center right after his retirement is unnecessary.
Eisler became somewhat of a controversial figure in his twilight years at Ferris. His elusiveness from the media, lack of communication with faculty and the fact that it was his administration's substandard performance that caused the Ferris Faculty Association strike in 2018 are loud examples of him not deserving this.
In a Facebook post, one displeased individual described the change as a "smack in the face" to the professors and faculty who went on strike in 2018.
As previously reported in the Torch, Professor John Caserta raised his concerns with Eisler during the 2018 strike.
"The faculty are very angry that we have a president who will not negotiate and forces us to do this," Caserta said. "We're not asking for a lot of money; what we are asking for is a fair wage. We have faculty who live paycheck to paycheck. This is really detrimental, it hurts our families, it hurts students."
For a long time as well, the only communication the FFA could get from Eisler came from his lawyers.
On top of this, many forget that Eisler nearly left Ferris in 2012.
According to MLive, Eisler was seriously considered for the president position at Northern Kentucky University. Eisler withdrew his bid to Northern Kentucky, but it doesn't exactly look great now when you name a building after someone who was publicly thinking about an exit ten years ago.
There is also some outrage towards the board of trustees, rather than Eisler.
Before it was the David L. Eisler Center, it was the University Center. Before that, it was the Rankin Student Center. Multiple individuals, seemingly from the Rankin family, were upset with the change.
One notable claim comes from Robert and Don Rankin.
"After the renovation [of the University Center], my brother Don and I visited President Eisler and asked why [our father's] name was removed," Robert Rankin wrote. "He said it was now policy not to name buildings after people. I guess that policy has changed."
Robert Rankin added that it was his father's "greatest honor in his life."
In a separate comment, Don confirmed Robert's story while questioning the character of Eisler and the board of trustees.
The Rankin name would've been removed in late 2014 when the center's renovations finished. That "policy" was seemingly more of a "rule of thumb," considering the thumb was broken a convenient eight years after it was allegedly established. If the Rankin's testimonies are true, it makes no sense on Eisler's behalf. The choice to remove the Rankin name, while not touching any other buildings, is particularly damning.
Under Eisler, the FLITE library and North Hall were constructed. The "policy" is intact for those buildings. In 2014, the Rankin Center was under renovations, not a full-on build.
So what gives? They renovate the center and drop the name, but eight years later find it a good retirement gift for Eisler and decide to put a name back on it?
The name change of the University Center stands as incredibly rushed at best, but the man it was named after is seemingly undeserved at worst.