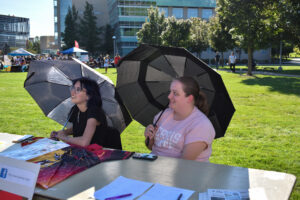 Bulldog Bonanza returned to Robinson Quad for another round on Wednesday, Sept. 8, giving students the chance to get acquainted with the campus community and a wide variety of freebies.
Bulldog Bonanza is an opportunity for Ferris students to get involved on campus and off. Everything, including admission to the event, was free. Many of the organizations in attendance had handouts for students, which ranged anywhere from product samples to door prizes. There was also sign-ups and information about many different student organizations.
There were roughly 30 tables set up for this event. Tables ranged from political groups to different fraternities and sororities advertising their rush events, as well as Sports Clips giving out coupons for free haircuts.
Bulldog Bonanza also had many club sports out for students to learn more about their teams.
Dakota Young, a senior biology student and president of Special Olympics, was among the many leaders who used Bulldog Bonanza as an opportunity to educate and recruit new members.
"[Special Olympics does] a lot of different events, from social events and supporting the athletes to actually playing games with them. Our goal on campus is to promote campus-wide inclusion," Young said.
Isaias Rivera, treasurer of historically Latino fraternity Sigma Lambda Beta, explained the group's philosophy at Bulldog Bonanza.
"We are a young group of gentlemen looking to change the world with our core principles: community service, cultural awareness, brotherhood and scholarship," Rivera said.
SLB's sister group, the Sigma Lambda Gamma sorority, was also in attendance. They pride themselves on being Ferris' first and only multicultural sorority.
Freshman Jashala Boxx enjoyed spending her afternoon at Bulldog Bonanza.
"It was nice. Everyone at the tables [was] nice and respectful," Boxx said. "I also got a lot of free stuff, which in college is nice because I don't have to worry about buying them. They advertised different events the organizations were putting on this month. Overall, it was fun to see the different groups that Ferris has to offer."
Sophomore Payton Silk was able to talk to groups that she hadn't seen around campus yet.
"I was able to talk to the different sororities, which could be scary because of how they seem in [the] media, but they were extremely nice to me. I thought the event was well put together," Silk said.
In university life, students have to balance their valuable time and money between many things, so it can be quite refreshing when organizations on campus and surrounding businesses come together to save students a little of both.
News Editor Jessica Oakes, Culture Editor Giuliana Denicolo and Multimedia Editor Marissa Russell contributed to the reporting and editing of this article.