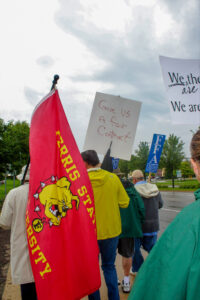 The Ferris Faculty Association unanimously voted on Wednesday, Sept. 7 to proceed with an official vote of no confidence in Provost and Vice President of Academic Affairs Bobby Fleischman.
This comes after three consecutive semesters of forced increases to online course sizes, which began just four days before the spring 2022 semester. While numerous grievances have been filed, both individually and collectively by the FFA and its members, these increases were kept up for the summer and fall 2022 semesters as well.
According to FFA President Dr. Charles Bacon, Fleischman has violated the terms of their collective bargaining agreement with these increases, and it's time he is held accountable.
"Well, this [vote] is primarily directed at President Pink saying something he already knows, that the faculty do not have confidence in the provost because the actions of the provost had been working against the faculty governance that we have enjoyed for decades," Bacon said. "[Fleischman] is operating as a bully and an autocrat. We've tried to work with him, but it's his way or the highway."
A vote of no confidence in its most basic form is a vote that shows that the majority does not agree with a policy laid out by a leader or governing body. In this instance, this vote of no confidence asserts that Fleischman does not have the support of the faculty behind him and calls for his termination. After the unilateral increase in course caps, the FFA believes he cannot remain where he is.
"We've filed more grievances in Bobby Fleischman's time here than we have ever," FFA Vice President and Grievance Chair John Caserta said. "When they violate the contract in terms of working conditions, as he did with the online caps or imposing new working conditions, we have to file grievances to protect faculty. He's anti-faculty, he's anti-union and he's anti-student."
These increases ranged anywhere from 50% to north of 100%, according to Caserta. He reported that he saw increases as significant as a jump from 20 students to 50 students for a single class.
These incidents resulted in three collective grievances filed by the FFA, asking the university to fairly compensate the faculty for the increased amount of work they had to do as a result of these increases.
"During the spring, the university made three and a half million more dollars in tuition, and [they] don't want to pay the faculty any extra money," Bacon said.
According to Bacon and Caserta, Fleischman has not made contact with them or the FFA as a whole since October of 2020, after multiple months of failed contract maintenance meetings.
The Torch reached out to Fleischman for a comment and received the following statement.
"As Provost, I remain deeply committed to working together with the entire University community, including faculty, in a productive and collaborative manner within established processes to reach a mutual and fair resolution on all matters," Fleischman said. "My focus is to continue working diligently for the betterment of Ferris State University students. I fully support President Pink in moving Ferris Forward in unprecedented ways."
The FFA feels he's incapable of doing so.
"He's defrauding you. You and your parents are paying good tuition dollars for a class that you were promised was going to be quality and provide you with good instruction, and when he increased these class sizes, it's all about money," Caserta said.
University President Dr. Bill Pink echoed Fleischman's sentiment.
"I have the utmost confidence in Provost Fleischman and his team and will continue to support them as they oversee the academic programs and goals of Ferris State University," Pink said. "The education of our students remains my top priority. My entire leadership team and I are committed to working collaboratively across the university to ensure that the students of Ferris State University receive the best education possible."
While the FFA agrees that student education should remain a top priority, they don't believe that Fleischman is the man for the job.
"Our concern is about the quality of education—the amount of money that you spend to have a good course—and we're trying to defend the integrity of our curriculum," Bacon said. "And if a faculty member who had 20 students per section now has 40, you have to ask yourself, can they do the same things that they did with 20 students? And the answer is no."
This is a developing story, and the Torch will diligently follow it as it progresses.