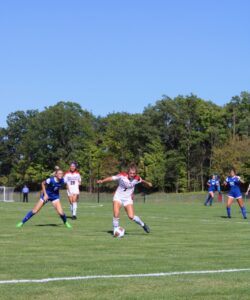 Ferris came inches away from beating the #3 team in the country but had to settle for a 0-0 tie.
Ferris (1-2-2, 0-0-2 GLIAC) hosted #3 Grand Valley Friday, Sept. 9 to open GLIAC play with a scoreless tie. Senior Katie Nestico attempted to break the tie with four shots on goal in a six minute span late in the second half. She appeared to have done so with a shot that hit the crossbar and went straight down into the net, but play continued as the officials did not signal for a goal.
"Just a little unlucky today," head coach Greg Hanson said in regard to Nestico's shot attempts that did not find the back of the net.
The Bulldogs had 12 shots, five shots on goal, and three corner kicks. Sophomore goalie Darya Mosallaei had three saves.
Ferris will face Grand Valley again in Allendale on Oct. 16.
In the second match of the weekend the Bulldogs faced Davenport which ended in another draw but this time the score was 1-1.
Before Sunday's contest against Davenport, Ferris held a ring ceremony to celebrate the Bulldogs' 2021 GLIAC championship.
Davenport engaged Ferris in a tough and physical game in the rain that featured 23 combined fouls between the two teams.
The Bulldogs had 12 shots, five shots on goal, seven corner kicks and two saves.
Davenport scored on a long shot from Sarah Possett that went through Mosallaei's hands. Minutes later, Payton Price recorded her first goal of the season at 21:15 in the first half. Ella Wolf assisted.
The Bulldogs will look to get back into the win column when they face off against Northern Michigan in an away game at 3 p.m. on Friday, September 16.