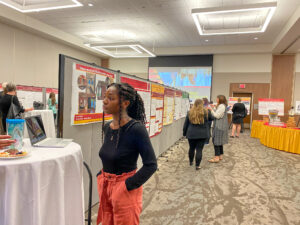 CORRECTION: This article mistakenly characterized the building construction technologies major as not a part of the STEM area of study. It is a part of STEM in both mathematics and technology.
Rather than relaxing and soaking up the sun for four months, the 2022 Summer Research Fellows spent their break rolling up their sleeves and getting to work.
The SRF program promotes the diversity of the student body by offering research opportunities to underrepresented students in a vast array of disciplines. This year that mission was hallmarked by a day of student presentations led by only women, a first in the program's history.
Gathering in the Founder's room on Friday, Sept. 16, eight of the summer research fellows took the physical or virtual stage to show off what they worked on this summer.
To start the day of innovation off, University President Dr. Bill Pink took the stage to share his excitement and enthusiasm for what these students have accomplished.
"I'm always in for a party," Pink said. "If we can celebrate each other and we can celebrate what we're doing. Count me in. I'm here… At this university, it's not just about the incredible education that we provide. We also have that focus on research and finding out the why."
Presentations ranged from the building construction technologies program to communication, business administration, architecture and sustainability and social work.
Zaria Dankins, a junior studying building construction technologies presented a lab she piloted over the summer. Dankins saw a hole in her education and decided to take that into her own hands and create a lab to fix the hole.
"The whole purpose of the project was to create a beautiful transformation and to gain hands-on construction experience," Dankins said. "That's why we came up with the renovation and restoration investment lab pilot."
Dankins saw that her curriculum was primarily commercial based and didn't spend time talking about renovation, something she'd love to know how to do herself.
Caitlin Coppess, a junior studying applied mathematics, managed not only to reach her goal of extending an existing methodology from 1D to 3D but to do so with a .01% relative error rate.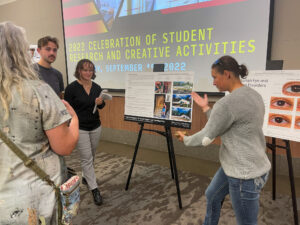 "It's super hard to get a relative error that low," Coppess said. "I was using their methodology, but to be able to extend it and work with it and then be able to get good results on it was super satisfying."
After the morning of presentations concluded, guests were ushered to the nearby ballroom to see all of the work done by the fellows. This also gave the presenters some time to reflect on what it meant to be a woman in their fields.
Brooke Meheny, a recent graduate of the architecture and sustainability program, presented her research on various methodologies for social impact on communities. Meheny was thankful for the opportunity to gain experience in her field so early on.
"It was beneficial being a woman out in the field, getting real-life experience doing architecture, especially since in architecture women are coming up in it… but it's a male-dominated profession," Meheny said.
Jessica LaGrand, a returning student in the communication studies program, first attended Ferris 40 years ago. She was excited to see the full panel of female presenters and loves what it could mean for the future.
"It's so impactful for me… to be able to come back and help out with a project like this, that's keeping the students at the forefront, is really important," LaGrand said. "Fourty years ago, I didn't really have a voice. This opportunity, coming back after so long, makes me feel like I have a voice because of this type of research that Ferris has taken, this discourse analysis, and trying to figure out what we can do better with relationships between the faculty and students, is something that wasn't present when I was here before."
Those interested in learning more about each and every SRF project can find more information here, and anyone feeling inspired to take their shot can start applying for the 2023 session in January.
News Editor Jessica Oakes contributed to the reporting of this story.