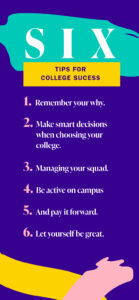 The Office of Multicultural Student Services invited Kappa Alpha Psi member and college success coach Jahquan Hawkins to present a chapter called "How Strong Is Your Squad" from his book "Finding My Way: A Practical Guide to College Success" on Sept. 13 at 6:30 p.m. in the Business Building.
OMSS Assistant Director Darnell Lewis created this event to help students learn strategies that will help them navigate their college journeys.
"Knowing your squad helps you evaluate who's on your team because your team can help motivate you or your team can hinder you from growing as an individual," Lewis said.
During the event, Hawkins took a different approach to his presentation by first going around the room and asking for every student's name, major, year and their reason for coming to his event so that he could engage with them all.
Something that Hawkins wanted the audience and all college students to remember was that if they leave with questions, then he hasn't fulfilled his purpose.
Hawkins then started to present his key to getting through college, which was his list of six college success skills. Hawkins learned each of these skills during his time in college, and he wanted to share the information with other college students.
The first one is to remember your why. This question lets you ask yourself why you chose the college path. When going through hard times during the semester, remembering this question is a way to make you feel better.
"Nobody's why is silly because it's yours, and the degree is going to have your name on it… so you might as well own this process," Hawkins said.
The second skill is to make smart decisions when choosing your college. Think about the school that is best for you and works with your prefered major, instead of the ones with the parties or popularity. The third college success skill is to manage your squad. A squad represents the important people in your life.
According to Hawkins, a way to evaluate your squad is to figure out what needs to be sold, bought or traded.
"What selling and trading means is that the relationship you might have with that person evolves and you put that person in their proper place with or for you," Hawkins said. "… Buying is figuring out what players on your team are you going to buy more stock in to play on your team."
The fourth and fifth skills are to be active on campus and to pay it forward. Be apart of something that is bigger than you. To leave your mark on campus, you must share information and experiences with other people to empower or inspire them.
The last skill that Hawkins wanted everyone to leave with is to let yourself be great. According to Hawkins, students often do not give themselves the opportunity to be great because they blame others for their lack of greatness.
Hawkins gave this advice on how to let yourself be great.
"Despite the things that don't work out in your favor, you still have to take that as an empowerment opportunity that allows you to be great," Hawkins said. "That's what defines you because we don't learn from perfect people. We learn from imperfect individuals who took a lesson that looked like a loss and turned it into a positive."
Hawkins' life goal is to advise students on how to overcome themselves, their doubt and fear. He always strives to help students become the best versions of themselves. To do that, you have to take every opportunity there is, and use it to the best of your ability.