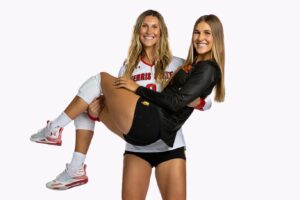 For Zoe Anderson, life is simple: faith, family, Ferris State.
The former Rockford standout has achieved much in her time as a Bulldog student-athlete, both on and off the floor. However, her plan wasn't originally to pack her bags for Big Rapids.
"When I first came as a [high school] sophomore, I didn't fall in love with Ferris," Zoe said. "I thought it was too close to home, and it felt like a gloomy day."
While Anderson continued her success on the hardwood in volleyball and basketball, she led the Rams to a state number one ranking in volleyball, while also registering an all-state campaign in basketball. As she continued to look for options in both sports, Anderson found herself back at Ferris a year later. This time, she felt a new heart to join the Ferris athletic program.
"When I went back my junior year and met the girls, I knew it was the place I needed to be," Anderson said. "It was a home away from home."
Anderson would then sign on to join the basketball team under former coach Kendra Faustin, where she began her collegiate career. After a few years of learning the system, Anderson became a starter for the Bulldogs under newly hired coach Kurt Westendorp.
During her four years, Anderson scored almost 500 points and helped her team reach two NCAA tournament appearances and two conference championships. While she may not have racked up record-breaking stats, Westendorp said her character and leadership were pivotal to the team's success all around.
While she had another year of eligibility, Anderson had plans to continue on the hardwood but with a different kind of net.
She found herself staring down an opportunity that she was never able to experience during her high school career. With her little sister, Alina, having committed to Ferris to play volleyball for the upcoming fall season, Zoe saw the limited chance that she could play a sport with Alina for the very first time.
"I never got to be her teammate in high school, and she means everything to me," Zoe said. "I love her so much, and I felt like God was saying this is a chance to be able to do something that many people don't ever get the chance to do."
With Westendorp's and volleyball head coach Tia Brandel-Wilhelm's permission, Zoe transitioned to volleyball following the 2021-2022 basketball season.
For Alina, the transition to college instantly became easier.
"She is probably my biggest role model in every aspect of life, so to be able to step on the court and play with her means a lot," Alina said. "I'm learning so much from her."
Growing up, Alina looked up to her older sister in many ways. When asked about one thing that separates Zoe, Alina said it's her driving work ethic.
"She's someone who sets a goal and will accomplish that no matter what she has to do to accomplish it," Alina said. "She was finishing her senior basketball season and trying to join the volleyball team, all while being in nursing school. I give a lot of credit for what she has done."
Success at Ferris spans far more than just on the court for Zoe. While studying nursing, she also participates in clubs, such as the Fellowship of Christian Athletes, and serves as the co-president of the Student-Athlete Advisory Committee.
In appreciation of all her impact and hard work, Zoe was awarded the Willie Bouyer Leadership Award this past year. This honor is given to a standout student-athlete that shows strong inspirational leadership and dedication to Ferris. She is the fourth women's basketball player to win the award.
While this reward will certainly be tabbed to Zoe's name forever, the fifth-year senior has many things she wants to be remembered for.
"I want people to remember me as someone who always had a smile on my face," Zoe said. "I love to win and hate to lose, but I believe life is much bigger than sports. I hope to be a strong leader and empower the people around me."
The Bulldogs took their first match at home this season in a 3-0 win over Wisconsin-Parkside. While both Anderson sisters registered playing time, they will await their first points playing together for the next home match on Sept. 30 against Northern Michigan. Opening serve is set for 7 p.m.