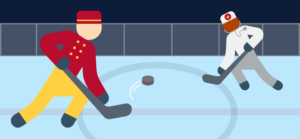 The Ferris hockey team has seen many players transition to professional hockey, but that level of success doesn't accurately represent the reality of what happens to most after a college career.
Former Ferris players like Gerry Mayhew and Chris Kunitz have carved out a career for themselves in the National Hockey League. However, Kunitz and Mayhew represent a very small minority. According to the National Collegiate Athletic Association, only 2% of all student athletes play professionally. The number shrinks to 1% when isolated to men's ice hockey.
Former Ferris hockey player Nate Hennig is an example of the majority.
"When we finally lost, I was eager to go home, and then someone happened to tell me that there was a job fair at [Wink Arena]," Hennig said. "I was on the way out of town, and I'm a senior thinking, 'I'm going to hang up the skates, I should probably go to this.'"
Hennig played for the Bulldogs from 2007 to 2011. It was at that job fair at Wink Arena that he connected with Hilton Hotels & Resorts. Hilton Hotels approached Hennig and asked him if he'd want to work for them in New York City. Following his stint in New York, Hennig worked his way up to the title of complex director for the Palmer House, a hotel in Chicago.
"It's a tough decision because, essentially, what you're saying is the thing I've done pretty much daily for the last decade will never happen again," Hennig said. "You could play in a men's league [or a] beer league and drop in whenever you want to play, but it's not in the same regard."
Hennig notes that he misses playing in games, the behind the scenes aspect of the sport and the camaraderie he shared with his teammates. Since his last game in 2011, Hennig has only been on the ice five or six times. Of all the reasons that pushed Hennig out of the sport, losing love for the game was not one of them.
"What people don't realize is that it's not all fun and games," Hennig said. "They see us play Friday and Saturday night, but what they don't see is we're waking up at 5:30 in the morning on Monday to go run that staircase along that river—I mean that thing is from hell."
Despite his hatred of the Riverwalk's stairs from hell, Hennig values what he learned from hockey, and he says he applies its core values to his current work.
Hennig believes leaving hockey after college was the right decision, and becoming complex director at the Palmer House is something he is very proud of. Hennig noted that some of his teammates are just now getting to the top levels of their careers, while he's a decade removed from college hockey and very satisfied with his position.
To former Ferris hockey player and current medical school student Joe Rutkowski, the feeling about having a time advantage is a little different.
"With medical school it's a long road," Rutkowski said. "Four years of medical school and then four to six years of residency. It'll be interesting to see [how I feel] in a couple of years and if I can have the same viewpoint as Nate had."
Rutkowski played for the Bulldogs from 2016 to 2020. After playing two professional games with the Rapid City Rush in the ECHL in 2020, Rutkowski was traded to the Reading Royals in the offseason. Originally, he had plans to play for them, however, the start date of the season kept being pushed back until the Royals' season was cancelled altogether.
"I'm retired," Rutkowski said. "So it's done. I've only skated probably a handful of times since those last two games after my senior year. I trained in the offseason in hopes of another season during my gap year, but the season had been canceled due to COVID-19. I got into med-school and found out right around the same time that it all happened."
Rutkowski defined stepping away from hockey as bittersweet. But with everything seemingly lined up perfectly, he was excited for the future. Now, in his freshman year of medical school, Rutkowski is enrolled at Kirksville College of Osteopathic Medicine in Kirksville, MO.
"Looking back, I don't think I would have picked anywhere else to go," Rutkowski said. "They really do stress the importance of academics as well as the game of hockey, which I liked. It's hard to say if other coaches throughout the NCAA might be as serious about the academic side of school as our coaches at Ferris are."
Ferris hockey head coach Bob Daniels agrees with how much Ferris supports its athletes' education. Daniels recalls a time when the program, alongside the Blueline club, had to work around Rutkowski's pre-med schedule.
"There were times where he would have an exam on a Friday morning, but we were playing up at Michigan Tech. He would stay behind, and our Blueline club would help us by paying for a one way flight [to Michigan Tech] and pick him up in the afternoon."
Both Hennig and Rutkowski share the common fate of leaving the game of hockey in favor of a different future. Unlike their choice to move on, when asked what they would tell a player in the same position at the end of their career, their answers differed.
"What I'd say is, 'Where do you want to be in 10 years?'" Hennig said. "If you're not going to leave hockey a multimillionaire, what I would say is, 'It's worthwhile to consider jumping into the professional industry.'"
Where Hennig's response offered a more critical view of the sport, Rutkowski's was a bit more supportive.
"If someone did have the potential to play a couple of years and really felt like they wanted to, I would [encourage them to] pursue that," Rutkowski said. "You can always go into medical school or go into a graduate program later on down the road."
Both men made the choice to step away from a game they had a passion for. Their choice reinforces the belief that "you only know you love it when you let it go," and it shows that anyone can be due for a career change.