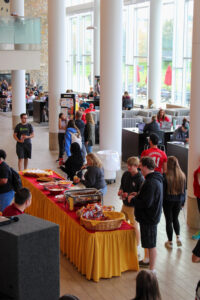 On Thursday, Sept. 16, Ferris students were treated to free walking tacos and the chance to talk with President Bill Pink.
Student Government Association President MaeLynn Huhn created this event for the students to get more people familiar with Pink.
"This is an event to get students acquainted with the president and student government and to get more information around campus on what we do throughout the year," Huhn said.
During this event, students learned a myriad of things about the president.
"In interviewing Pink, we ask him a few fun questions, and he said his favorite foods were Mexican and tacos, so this was two birds with one stone. We also liked the play on words," Huhn said.
Huhn and Pink enjoyed collaborating for this event, but right now there aren't any future events in the works.
"Look forward to more events with Dr. Pink and SGA. It is a possibility you could see us work together again soon. Right now, we are wanting to give more information on what SGA is as a whole," Huhn said.
Staff Sgt. Maxwell Neubauer and Staff Sgt. Bradley Plaska were also able to have a meaningful conversation with Pink.
"He is doing outstanding. I like that he's on the scene," Neubauer said. "It shows that he is invested in the school, and he doesn't shy away from anyone. [That is] something Ferris has lacked in my opinion for a few years."
Being a member of ROTC in his youth, the program means a lot to the president.
"We were talking to him about the ROTC group and about him coming out and talking to the recruiters," Plaska said. "Pink used to do high school ROTC, so he wants to continue the tradition of bringing more people into the program for the sake of our country."
Pink has enjoyed being present at events and interacting with students throughout his first weeks at Ferris.
"I do these events because I want to be a social president," Pink said. "I want to be a president people can connect to. I have gotten to meet so many students the past three weeks, and it has been exhilarating."
One way he meets students is via golf cart, which he often rides through campus.
"Every time I end a conversation with students, I tell them if you see me on the go cart and need a ride, let me know I will take you there," Pink said. "I also love giving people Starbucks gift cards because I know most of our students survive on caffeine to get through the day."
Pink isn't stopping the fun anytime soon.
"I told my team we are going to drive kids to class in the winter also because that's when they are going to need it the most, and if we have to we will bring a mini heater," Pink said.
View the campus calendar for future SGA events.