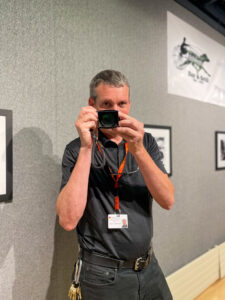 Jason Swearingen's "Last Call, Schuberg's Bar & Grill" photo gallery encapsulates the stories of workers and patrons as the night closes.
Swearingen, an audio/visual technician for Ferris' Information Technology Services department, opened the exhibit in Ferris' Fine Arts Gallery on Sept. 5. The photographs display the last few hours of work during the last call at Big Rapid's own Schuberg's. The last call is an announcement made shortly before the bar closes for the night.
Swearingen has been taking photographs of those "small moments" since he was 16 years old as a creative outlet. He says he enjoys taking "the candid shot" in tableau, when people are able to find their light, and Schuberg's offered him just what he needed.
Schuberg's is also Swearingen's third place. Swearingen describes the idea that everyone has three special places to them. The first place is their home, the second is their work and the third is a place to not deal with stress.
"The idea of a third place is that it's so egalitarian," Swearingen said. "Anybody can participate in it. It's based on conversation. There's a lot of psychology involved in it, and it doesn't get any more nostalgic than Schuberg's in Big Rapids."
Swearingen said the great thing about third places is that you can go a week without stepping into the place, and once you return everyone is happy to see you again, like no time was lost. He jokingly said that if he didn't show up at home or at his job, he would end up divorced and jobless.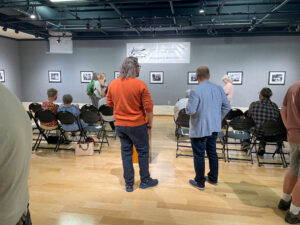 Swearingen has found Schuberg's to be the place where the community gathers together, even noting that Ferris Alumni mention the bar and grill when they come back into town.Third places, like bars, have always interested Swearingen. For Schuberg's, he says it doesn't matter what your social status is. It's a place that's open to everyone.
"That's the great thing about third places, it's like a concept," Swearingen said. "There's a thing that gives us a tie to the community, and Schubergs has been that tie for so many people."
Swearingen talked about how the bar has become a place where anyone is welcome and how it's a great place to chat because the topics are endless.
Kaleb, an English undergraduate student, attended the exhibit and found the photographs humanizing. He said the photos allowed viewers to think about the individuals who work in restaurants and the hardships they go through.
"Personally, I really don't like working at restaurants," Kaleb said. "The people in these photos, they're willing to do the work that nobody else is going down to do. Why do you think they do it? That's the kind of question going through my head. Why would you want to work? That also makes you think about the kind of atmosphere that people can create."
Trinidy Williams, Swearingen's wife and Associate Dean for the College of Arts, Sciences and Education, has been involved in the gallery for the past 18 years. Although Williams can not speak directly for students, she hopes there is an impact on them when they come to see the art on display.
The Fine Arts Gallery brings in new exhibits a few times a year for both the public and students to enjoy for free. The current exhibit featuring Swearingen's photographs will be on display until Oct. 28.