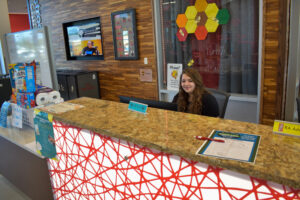 The life of a residential advisor can be a crazy, yet fun, experience for all, but don't let the fun fool you, being an RA is a lot of work.
While students are enjoying the last few weeks of their summer, RAs are here on campus, preparing everything and getting ready for incoming students.
RAs normally move in during the second week of August, usually on a Wednesday or Thursday. They get a weekend to unpack, relax and get to know the other staff members before their training begins.
The next Monday they start training from 8 a.m. to 5 p.m., Monday though Friday. They don't finish up training until the day before move-in weekend. On this weekend, they get to work on their forms and halls and do self care. While working on their halls, they have to decorate themed bulletin boards that let residents learn about them and other campus resources.
RAs also have a special task called Duty Nights, which is when two RAs have to stay in their hall from 7 p.m. to 7 a.m. While on duty, they are responsible for handling any noise complaints or other serious issues. Each RA has to pick one day a week to be available for duty. RA's also have Duty Weekend, which is one full weekend where they have to put on a social event for their residents. The events center around the month's pillar ice cream social.
When RAs aren't on duty, they are mainly found manning the front desk. While working the desk, they answer any questions residents have, answer phone calls, handle mail and pass out other miscellaneous items, such as kitchenette supplies and games.
Criminal justice junior Faith Faille is a RA in North Hall, and she has worked in housing for three years. She became an RA because she wanted to bring her leadership experience from high school to Ferris.
"I was in a leadership role in high school, so thought it would be cool. It's really fun. I get to meet a lot of kids, some of which I'm still friends with to this day. My favorite thing about being an RA is interacting with the students and [getting] to see them grow into adults," Faille said.
Criminal justice senior Anakah Williams is also an RA in the North Hall building. This is her first year as an RA, and she has loved her role thus far.
"I feel as if this position gives personal gain unintentionally," Williams said. "I like the independence and responsibility the RA position forces me to have. I have enjoyed working through on hand experiences as well as building a community with the residents of my hall."
Williams believes that she is a good fit for the program because of how she can approach situations.
"…I have the ability to react and conquer [the] situations thrown at me in a professional way. This job has given me the opportunity for personal gain in areas that could use more practice," Williams said.
Williams didn't have good experiences with her past RAs, and she wants to make sure her residents don't have the same experience she had.
"I chose to become an RA because I personally never felt a good connection between my RA and I in previous years. I experienced a lack of support and interest from my RAs in various buildings around campus, so I wanted to take this opportunity and make it the complete opposite for my peers," Williams said.
If you are interested in becoming a RA for the next semester, you can apply through the "MyHousing" portal on MyFSU. The link will be under "Contracts, Applications and Forms" and "Student Staff Recruitment." These Applications will remain open until Nov. 18, 2022, at 5 p.m.