Following a strong showing in the Ray Helsing Bulldog Invitational to begin the season, the cross country teams headed to East Lansing to compete alongside Division I schools in the Spartan Invitational.
In their first race of the season at the Bulldog Inivtational, Ferris had 14 runners between the men's and women's squad place in the top 10 of their respective races.
Brandon Wirth finished first overall for the men's squad, and Hanna Brock finished third overall for the women's team.
Sydney Kubiak, Whitney Farrell, Melanea Strauss, Daisy Englund and Danae Feldpausch also finished in the top 10 for the women's team.
"We just wanted to go out there, work together as a team and group up as much as we could," Brock said. "We had a lot of girls in the top 10. I personally was super stressed, especially in that first mile."
On the men's side, Brendan Cairney, Dan Hardesty, Donis Harris, Kevin Wilson, Nathan Alford, Casey Bouman and Cooper Sorsen finished behind Wirth and in the top 10 for the men's squad.
"We all got out and had a great effort as a team all around," Wirth said. "Everybody had a great race, and I felt really tough out there."Head coach Jared Kelsh was impressed with both of his teams in their first race of the season.
"We're really happy with the way things went today," Kelsh said. "A lot of our kids ran PRs and lifetime bests, which is always a great way to start the season."
At the Michigan State Spartan Invitational, both Cross Country teams fared well against multiple Division I opponents in a field of 37 universities.
Sept. 16's trip to East Lansing introduced valued opposition in the 41st edition of the Spartan invite. Both squads rose to the occasion, with the men on the heels of several D1 programs, and the women beating two D1 teams, including Valpraiso and Ball State. Michigan State, Cincinnati, Western Michigan and Kent State were among the other D1 teams at the meet, including multiple highly talented Division II teams.
The women's team totaled 309 points in a 12th place finish. On the 6k course, Kubiak led the women's team with a 75th overall finish with a sub 25 minute performance at 23:28.3. Just two seconds behind her was Brock, with a time of 23:30.06 to give her a placement of 79th overall. Strauss finished 85th overall at 23:34.89, Farrell was 99th at 23:55.42 and Feldpausch rounded out the team at 104th with a time of 24:02.50.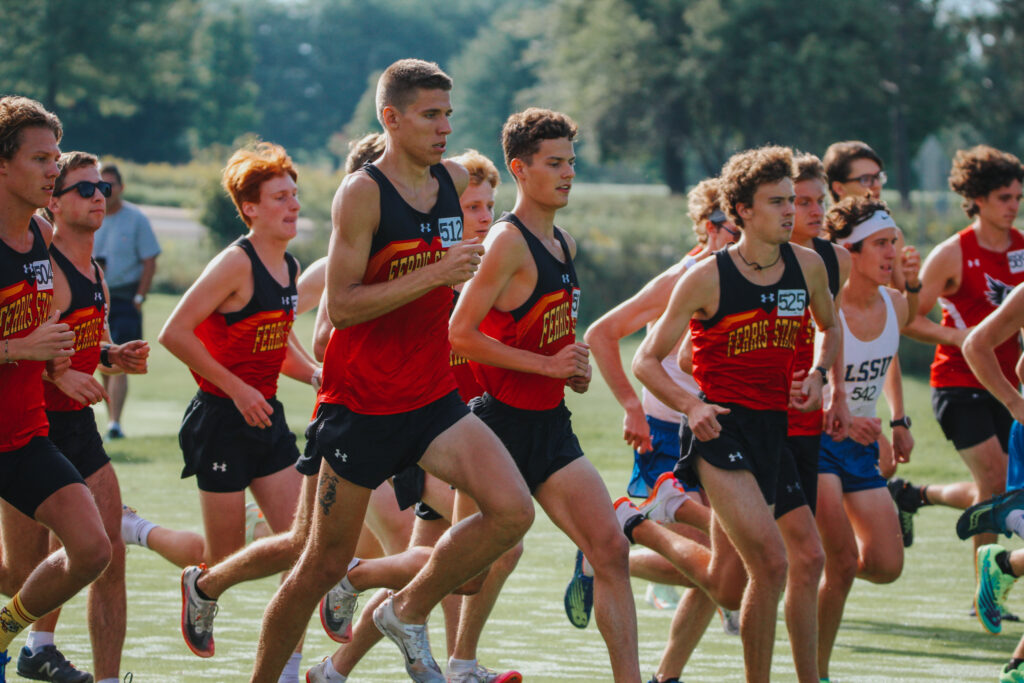 A 106th overall finish for the men's team brought out strong performances from younger members. Despite the lower finish on the leaderboard, many positives can be found in the team's trip to East Lansing.
Alford led the men's squad with a time of 26:49.51 on the 8K men's course, which was good for 106th place overall. Wirth was next in line in 118th place at 27:02.43.
Ferris' Casey Bouman finished 132nd in a time of 27:27.20 with Cairney coming in 135th at 27:30.52. Wilson was 148th (27:44.15) among the Bulldogs' top finishers.
The Bulldogs will next be in action on Friday, Sept. 30, at the Lansing CC Invitational. They will also compete in the Greater Louisville Classic on Saturday, Oct. 1, in Louisville, Ky.
Brandon Wirth is a sports reporter for the Torch. His interview included in this article was taken from a post-game segment with Ferris Athletics, and he did not contribute to the reporting of this story.

Sports Editor Brody Keiser contributed to the reporting of this article.