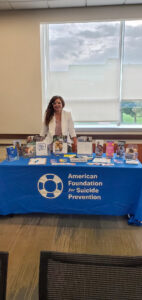 American Foundation for Suicide Prevention board member Vicky Mennare hosted an event called "It's Real: College Students and Mental Health" on Sept. 21 to promote suicide awareness.
Mennare has been in the AFSP for eleven years, and she is still going strong. She started working with the AFSP because she lost her father and cousin to suicide just last year. She has also personally struggled with anxiety and depression throughout her life.
A group of students attended the event to learn more about mental health and suicide by engaging in discussions. Although the audience was small, Mennare said she still would have presented the event the same way if it was fully packed or there was just one person.
"Suicide isn't an easy topic to talk about, but if one person comes and I make a difference in their life in any way, then I've done what I was meant to do," Mennare said.
Freshman Owen Worthington came to event to observe and learn more about mental health.
Some ways that Worthington handles his mental health is by getting out of town or just going outside.
"There's just so much stuff to do outside. You can go for walks, runs or even yoga [classes] to release stress," Worthington said.
Having people spread the AFSP's teachings to those in need makes Mennare feel like she's done something valuable with her tragedy and pain. With her pain, she's able to help others and bring hope to them.
For incoming freshman who are struggling with their mental health, Mennare's advice would be to be open and talk about your feelings because there is nothing to be ashamed of.
"Mental health is just as important as physcial health, and it should be treated the same… If you knew you were having stomach aches, you would probably go to the doctor, and if your brain is making you sick, you would go to the doctor. So it's the exact same thing," Mennare said.
If you or someone you know who is having a hard time with mental health, please call the National Suicide Prevention Lifeline at 1-800-273-TALK (8255) or text TALK to 741741 to text with a trained counselor from the Crisis Text Line for free.