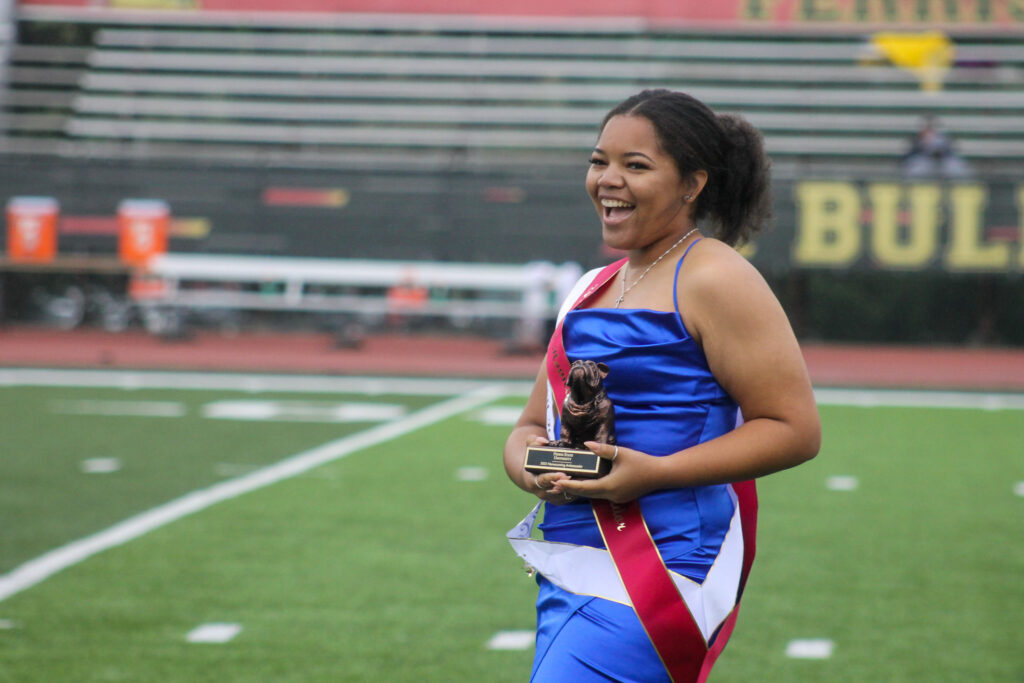 After a two-decade absence, Ferris' chapter of Sigma Gamma Rho Sorority, Inc. saw their president named Homecoming ambassador on Saturday.
Dental hygiene junior Hazelle Williams is a chapter president, member of the Real Life Campus Ministry worship team and a student employee at the Office of Multicultural Student Services. Williams is "ready and excited" to represent the student body after weeks of campaigning.
"I could never have done this alone," Williams said. "The campaign and the student vote is really what matters. It means so much to see all the love and support."
During her campaign, Williams expressed that greatness is only achieved when people work together. This philosophy has helped her form a wide web of connections across campus. She is grateful to see how the Ferris community "showed up and showed out at the polls" for her.
Business administration senior CaNasia Herron is a fellow SGR Inc. soror. Herron sat with other members of her sorority at Saturday's game, enthusiastically cheering for their president. According to Herron, Williams is "the best of the best." As a sorority sister and an African American student, Herron is happy to see Williams represent the school.
"[I feel] a lot of pride. I almost cried when they said her name," Herron said.
In the days leading up to Homecoming, Williams was most excited to be in Saturday's "rainy but awesome" parade. Getting to dress up to greet Big Rapids residents with a "princess wave" was made even more enjoyable by Williams' competitor-turned-friend.
In her campaign, secondary education junior Libby Montgomery represented Ferris' chapter of Zeta Tau Alpha. Her uncle was able to provide convertibles for both candidates to ride in during the parade. Montgomery was grateful for the opportunity to represent her sorority alongside Williams, another member of Ferris Greek life.
"I actually told [Williams] the other day, 'I really hope we can become good friends through this process' because we're both just trying to get through school," Montgomery said.
When Williams' name was announced at Saturday's game, both candidates immediately hugged with smiles across their faces.
Williams first decided to run for Homecoming ambassador in the spring. She was unsure about campaigning when her boss first sent her the link to apply. After seeing the opportunity she had to become a representative for her beloved sorority and school, her decision was made.
Earning this title showed her that the work she does and the connections she makes on campus are genuine.
"I've done my part. I've done my due diligence," Williams said.
Looking forward, Williams will continue her studies as an involved student and representative of Ferris. As ambassador, she encourages the student body to "decide to make [college life] the best" by being outgoing and getting involved.
"What you put in is what you get out," Williams said. "Make those connections, be friendly with others and try and make an impact on others."