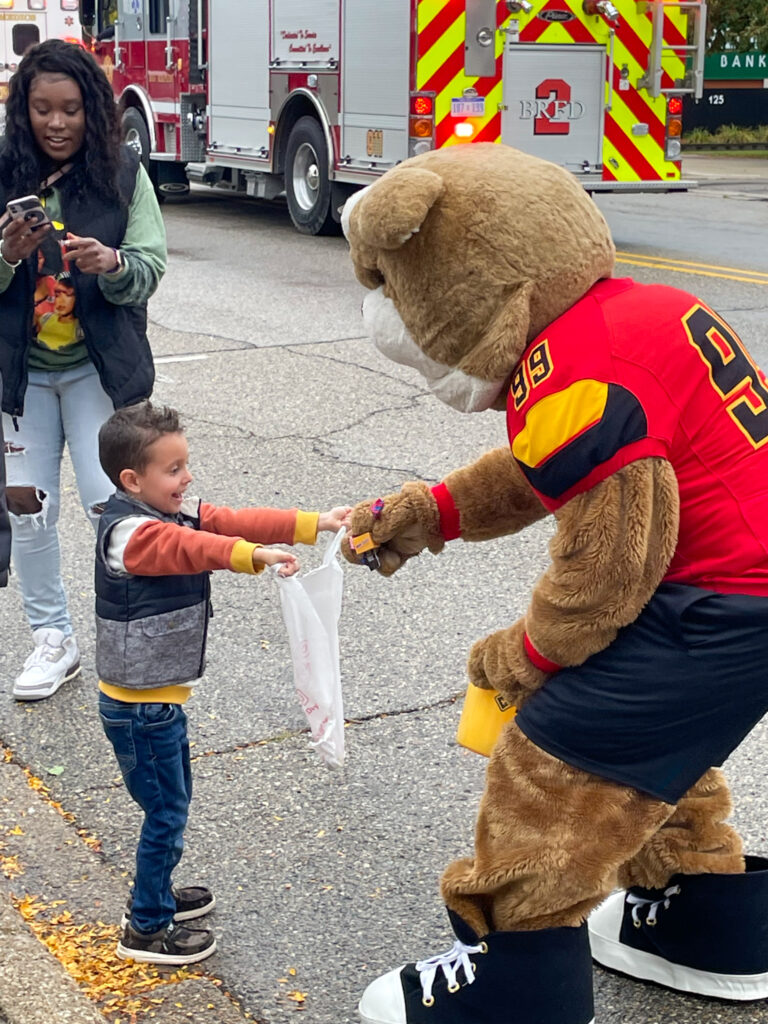 Ferris students and alumni came together for the 96th annual Homecoming celebration with the classic parade on Michigan Avenue.
On Saturday, Sept. 24, the Big Rapids community met to watch the Homecoming ambassador candidates, grand marshals, Brutus the bulldog and many other Ferris favorites ride through town.
"Bulldogs Recharged" was the theme of this year's Homecoming, symbolizing fresh energy coming back to campus after gatherings and socialization were compromised due to the pandemic. People of all ages smiled through the rain and mist. From the young children waving to their local first responders and picking up candy, to the alumni reminiscing on their college days while listening to Ferris' pep band play the fight song.
Rick Wisniewski, a 1984 Ferris graduate, attended the parade with his wife and said it was always a fun time to come back and watch the parade. Wisniewski has attended around a dozen Homecoming parades, stating they have been around Ferris for 40 years, and are reminded of how much the community is a part of the school's tradition.
"Just seeing the community involved," Wisniewski said. "This is what is so special about the school. It's the community."
The parade gives Ferris students the opportunity to pay attention to and appreciate the community they live in. Alumni are able to interact with the new generation of Bulldogs. Sporting Ferris caps, sweaters and letterman jackets, alumni gathered on both sides of Michigan Ave. Ferris' cheer team kept spirits high for all present and former Bulldogs as they swayed through the street.
Timothy Smith, a 1992 Ferris graduate, attended his 15th Ferris Homecoming parade with his colleague Melinda Darrow. Smith enjoyed the enthusiasm and local hospitality before the big football game. Darrow hopes the parade tradition carries on for many years to come, so others can find the same love for the music she does.
"[I like] the small-town feel where people actually care," Smith said. "They're very personable. They don't just walk by, they'll stop and talk to you. If you have questions, you can ask. It's a hometown feel."
It takes a team to host a weekend-long celebration for the Ferris community. Every year, a Homecoming committee is created to plan the tailgates, brunches and parade. Business administration junior Paige Byrnes was in charge of this year's four-student parade team.
"The parade is a very traditional event," Byrnes said. "It's been Saturday at noon for a very long time, so I didn't have to make those decisions myself because they were already in place. Most of [the planning] was just making sure everything was in order, making sure we had [the streets] blocked off and trying to get participation."
To host the parade successfully, Byrnes contacted many organizations from campus to see if they would like to be in the procession.
Byrnes says she contacted all the available registered student organizations available from Presence and non-profits in the community. It's not always easy to organize so many participants when other activities take place on the same day, such as the department tailgates and the football game.
Although it's not an easy job, Byrnes enjoyed incorporating Big Rapids residents and Ferris students and alumni. She felt it was a special opportunity to interact with and bring together different demographics.