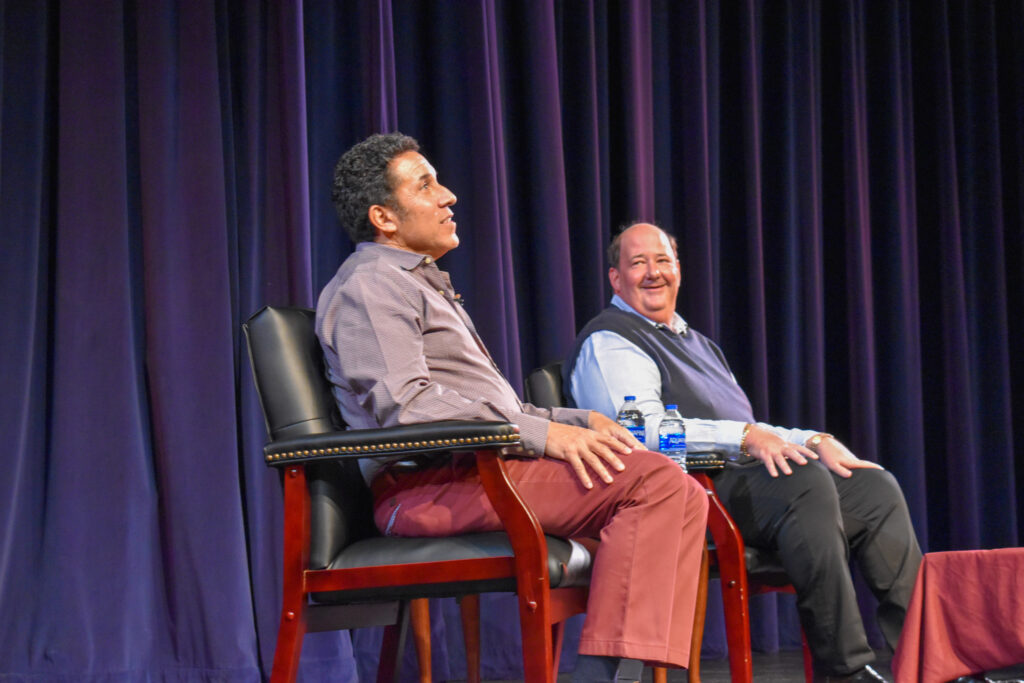 "The Office" stars Oscar Nuñez and Brian Baumgartner came to Ferris to tell jokes, sell chili cookbooks and continue the Homecoming comedian tradition of removing their shirt on stage.
Nuñez and Baumgartner visited Williams Auditorium on Wednesday, Sept. 21. The comedy duo reminisced on their time acting together and were even stumped by specific audience questions from "The Office" super-fans.
The first question they were asked was to rank "The Office" on a scale of their accomplishments. Baumgartner felt it had to come number one.
"It was a great show," Baumgartner said. "Ten years after it ended, we are still talking about it. You only talk about the greats if it's brought up, and 'The Office' is always brought up."
Nuñez spoke of his experiences on other sets before his role as Oscar Martinez. Still, no other project could top "The Office."
"I think it has to be close to if not number one, if you are being serious," Nuñez said. "I've done movies and other shows, but none of them have been talked about like 'The Office' was."
Nuñez and Baumgartner reflected on their now 17-year-old cast relationships. Their fellow Dunder Mifflin employees still feel like family to them.
"It's about the relationships," Baumgartner said. "Oscar and I are here, we don't live in the same city anymore, but he just came to my house. That is what you do as family. Even if you don't live near each other, you still visit."
When asked about doing a reunion for the 20th anniversary coming up in three years, Baumgartner referred to the strange plot a comeback episode would follow. With all the main characters living in various cities, he in unsure how a reunion would work logistically.
"I think that, at some point, the band will get back together," Baumgartener said. "[But] I don't know what they would have to do to bring everybody back."
Baumgartner made a joke about Nuñez not being able to remember anyones names.
"You want to challenge my mind," Nuñez responded. To prove him wrong, Nuñez told members of the audience to stand up if he talked to them before the show. Seven people stood up to be named by Nuñez. Jordan Knowlton was among one of the seven.
"We just were showing a group of kids, and we've never been there before," Knowlton said. "So I just kind of followed them thinking it was the entrance. It wasn't, and they were just down there and getting ready for the show… I think they were just trying to get ready for the show and didn't really want to be bothered, but I thought it was pretty cool that they made a point to remember our names and mentioned our names."
Knowlton and her friend came to the show even though they were not Ferris students. The show was more than Knowlton expected and made her fan dreams come true. Her favorite part about the show, other than getting called out by Nuñez, was his failed spit take.
As Baumgartener hosted a book signing for his "Seriously Good Chili Cookbook," Nuñez answered more sentimental questions.
"We always try to get students to ask as many questions the moderators allow," Nuñez said. "[We] throw it out to the kids as soon as you can because it's just a party. It's about "The Office," but it's about having fun. That's like a show for Brian and I. We just love doing it."
It is mind boggling to Nuñez how much the show means to viewers. As time goes on, new generations are able to connect to the show even though for some they weren't even born when it debuted.
"We've had people come up to us with babies, and they're like, 'Oh, when we were in the delivery room, we had "The Office" on the loop,'" Nuñez said. "So this baby was born to an episode of [us] because they just have it on a loop. Not to mention the tattoos people get tattooed. Like big ass tattoos on their bodies of a beat or Dwight or whatever. The first one we ever saw was the stapler."
Ferris communications senior Pierce Brown was chosen to interview Nuñez and Baumgartner. In past years, the Homecoming Comedian would have a student opener. Students from all over campus would compete for the chance to get on stage before well known comedians.
This year they decided to change the style and have one student sit down and conduct an interview. Brown was chosen because the Homecoming Ambassador president knew Brown was into comedy.
"It was awesome because it was the first time I've been on stage… with any type of comedian…," Brown said. "So even though they're not my idols… this [was] such a great opportunity."
The only thing Brown would do differently is pick a different outfit.
News Reporter Jonathen Hart, News Editor Jessica Oakes and Opinions Editor Dylan Ryder contributed to the reporting of this article.