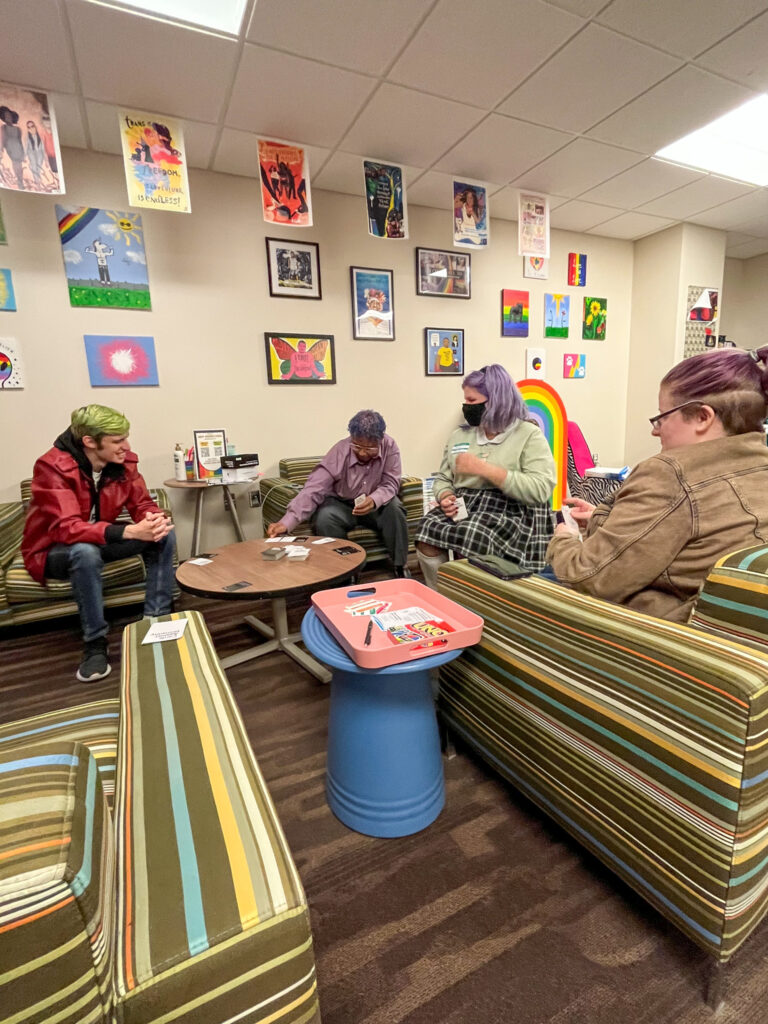 Friday game nights are not unheard of, but the LGBTQ+ Resource Center takes the idea an extra mile.
Inside the David L. Eisler Center and underneath the stairs lies the LGBTQ+ Resource Center. On Friday nights from 5 p.m. to 7 p.m. the Resource Center hosts "Friday Night Gaymes." This event is used to bring together people in the LGBTQ+ community and allies in a fun environment.
The name of this event was created by the Resource Center. The name helps draw attention to the event while also putting a clever spin on it.
"I think it's just because we love puns, and it's fun to add things," Eli Cecil, a student staff member for the LGBTQ+ Resource Center, said.
Inside the LGBTQ+ Resource Center, there are many places to sit, and the area is very colorful with LGBTQ+ representation posters plastered all over the walls and hanging from the ceiling.
Cecil is 29 years old, and he considers himself an older and nontraditional student at Ferris. He saw a recurring trend in the LGBTQ+ community where group events often involve bars and drinking. He believes a good way to bring a more friendly and safe environment to campus is "Friday Night Gaymes." His purpose is to push toward students having fun without partying or ingesting substances.
"The room is a place that is a safe setup, and it's free," Cecil said. "It doesn't cost anything to be here. You could come here on campus or not, [and] you meet people who are like you."
During the event, games such as "Cards Against Humanity" and "Jackbox" are played. "Jackbox" is a new addition to the event.
"Me and a few other people who started working with the Resource Center all like "Jackbox." Everyone can play," Derk Poortemga, a volunteer at the resource center, said. "A lot of college students just want to have dumb fun without any strings attached."
The event had a decent turnout, with lots of new and friendly faces. There is nothing but kindness, acceptance and, of course, laughter inside the walls of the LGBTQ+ Resource Center during these Friday nights.
"A lot of people in the queer community struggle to get out, especially when they're in college… Even if no one else knows your actual name and pronouns, you can use those here," Cecil said.
Name and pronoun tags are not the only things the resource center provides to make these events safe spaces. LGBTQ+ game nights will hopefully be available soon on Discord. This will allow those who don't feel comfortable around big groups of people participate.
Poortemga wants everyone to know that this is a space for everyone.
"We're not going to treat you [differently] if you're not one thing or another," Poortemga said.
"Friday Night Gaymes" go on every Friday at the same time and location. This event is a great way to get to know other students on campus.
The students at "Friday Night Gaymes" are nothing but joyful, and they have a lot of acceptance to give. Game nights with the LGBTQ+ Resource Center are hilarious and unforgivably queer.