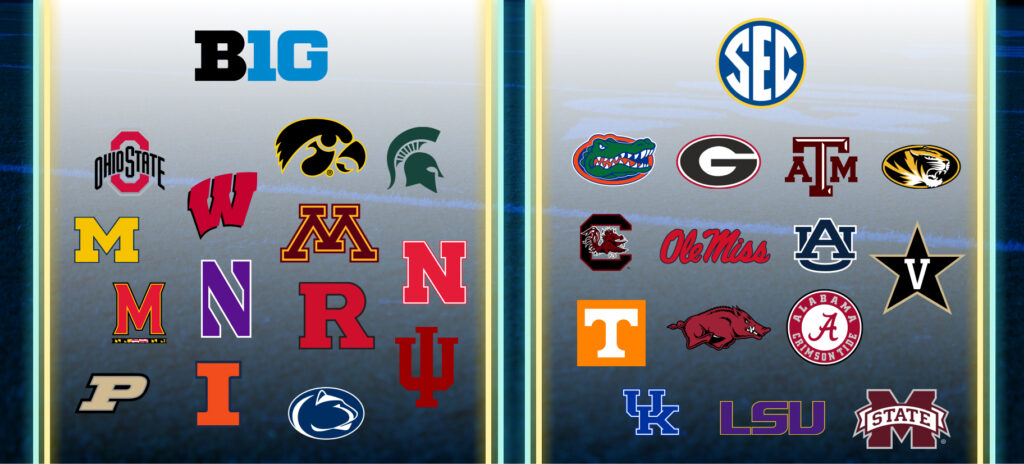 College sports conferences are being shaken up to create more competitive matchups within the conference the team plays in. There have been many colleges who have switched conferences to better their teams and competitiveness, but also to boost the way they recruit.
In college sports, you have always heard references to the "Power 5," which consist of the Atlantic Coast Conference, Big Ten Conference, Big 12 Conference, Pac-12 Conference and the Southeastern Conference. Those five conferences have been held to the highest standard for a substantial amount of time in terms of how good their sports are.
However, the era of five conferences controlling Division I college sports seems to be coming to an end.
Over the past few years, a few teams have decided to leave their positions, and now the landscape of conferences seems to be moving towards a two-conference power within Division I college sports. This will create more competitive games for colleges that you will probably see within a year. With some of the best teams in their conferences moving to another, they create a super conference and therefore compete more regularly and often with the best teams in that conference.
The two conferences that seem to be benefitting from the change in teams moving are the SEC and the BIG 10, which have already had two power teams commit to moving into their conferences. In the BIG 12, they will be losing two of their biggest schools, since they will be heading into the SEC. Those two teams will be Oklahoma and Texas, making the SEC an even stronger conference.
We have already seen a preview of this matchup with Alabama, a powerhouse in the SEC, taking on Texas in a marquee football matchup during the 2022 season of college football. This was a very competitive matchup that ended in a close game, with Alabama taking the win. This is what we can hope to see more of now that they will be in the same conference come the start of the 2024 season.
Another conference that will suffer is the PAC-12, as two of their top teams will be moving into the BIG 10 conference at the beginning of the 2024 season. This makes the SEC and BIG 10 clearly the strongest conferences in college sports. Most likely this will also make a lot more engaging competition in matches once all these teams are in their chosen conference.
As these teams join, what will happen to the teams in the SEC and the BIG 10 that are weaker and not winning consistently every year? Those teams that can't put up enough wins, or be competitive enough to face the top teams, should leave and go to a conference where they can compete with other teams matching their level, which will balance out the conferences.
Leveling the play should be wanted in college sports so the competitiveness can be seen in almost every game. Even Division II sports have made changes to create more competitive matchups.
Think of the GLIAC. Northwood just recently decided to leave the conference they had been struggling in against Division II powerhouses, such as Ferris and Grand Valley, to one that better suited them.
Will there eventually be a time in which the powerhouses of Division II move into Division I and get their chance to prove they belong there and compete against better competition? One can sure hope, but, unfortunately, we don't know quite yet.
Making these conferences stronger by having all the powerhouses in the same two conferences, or creating more balanced conferences across the board, is the way to see more of a competitive balance in all of Division I and even Division II sports.
After all, only time will tell how much the changes in conferences within college sports will turn out, but this seems to be the best solution for having more competitive matchups in conference play.