On Thursday, Sept. 29, the sound of music and laughter was heard from within the David L. Eisler Center's Ballrooms. The cause of this was none other than the "Salsa Fiesta Dance Night."
First originated in Cuba, salsa dancing was established as its own style in the 1940s. However, the dance styles it stemmed from date back to the 1900s. Back then, salsa music was quick, while today the music is slower and more romantic. Salsa dancing is all about moving with a beat and feeling the music.
The event was hosted by Salsa Fiesta, a group that travels to different universities all around the United States. David Verde founded "Salsa Fiesta" in 2019, and he is the current manager of the group. Kate Mora Woods and her husband, Rusmel Mora Garcia, are both dancers in the group who joined in 2020.
The idea behind Salsa Fiesta was to share the cultural element of salsa dancing with America. Those who attend can expect to learn the dance style as well as the Hispanic culture behind it.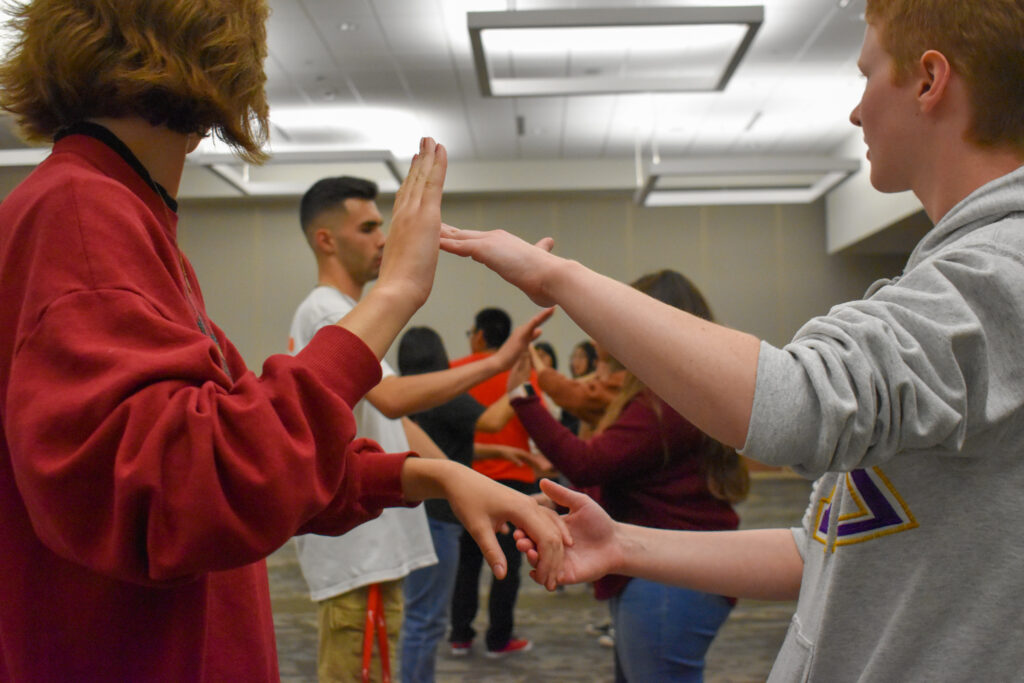 Salsa Fiesta has been to a lot of the states, but this is their first time in Michigan, and Ferris was their first Michigan class.
"All the students were really excited. Everybody was participating and trying and really learning the moves," Verde said. "They were engaged and enjoying everything that we were presenting."
The event started by teaching a few simple moves, such as the basic and side basic moves. Students were taught these moves and were then paired together with rotating partners, where they would learn how to dance together. With so many partner switches, everyone was able to meet one another as they laughed over a few wrong moves.
Kaitlyn Lim, a health information management student, was excited to get out of her comfort zone. She is trying to be more open and see all the different things the world has to give.
"It was nice to see new faces that we may have not seen otherwise," Lim said.
The event was set up to teach everyone the basics of salsa, which made it a very casual and comfortable environment. Students even got to practice good dance etiquette by giving their hands to their partners and asking if they would like to dance.
Health information management student Nicole Ly believes that as long as people keep showing interest and getting involved, "Salsa Fiesta Dance Night" can be a good time.
"The events that we have planned for Hispanic Heritage Month are really great and really insightful," Ly said.
Salsa dancing is about more than just dancing, it's about communication and trust. In partner salsa dancing, there is a leader and a follower. The leader has to be confident in the flow of salsa to direct their partner. They use their hand to direct their partner in spin directions and turns. The follower needs to trust and follow suit with their partner. Salsa is a team effort and with the right communication, it can be beautiful.