Ferris men's hockey is back for its 47th season all-time and its second season back in the Central Collegiate Hockey Association.
Last year's team finished 11-24-1 overall and landed at #7 in the CCHA standings. The Bulldogs were swept in the CCHA tournament after two separate overtimes against Michigan Tech.
According to the CCHA Coaches' Preseason Poll, Ferris isn't slated to move much in the standings as they are expected to finish seventh for a second straight year.
Head coach Bob Daniels doesn't give too much credence to the ranking predictions.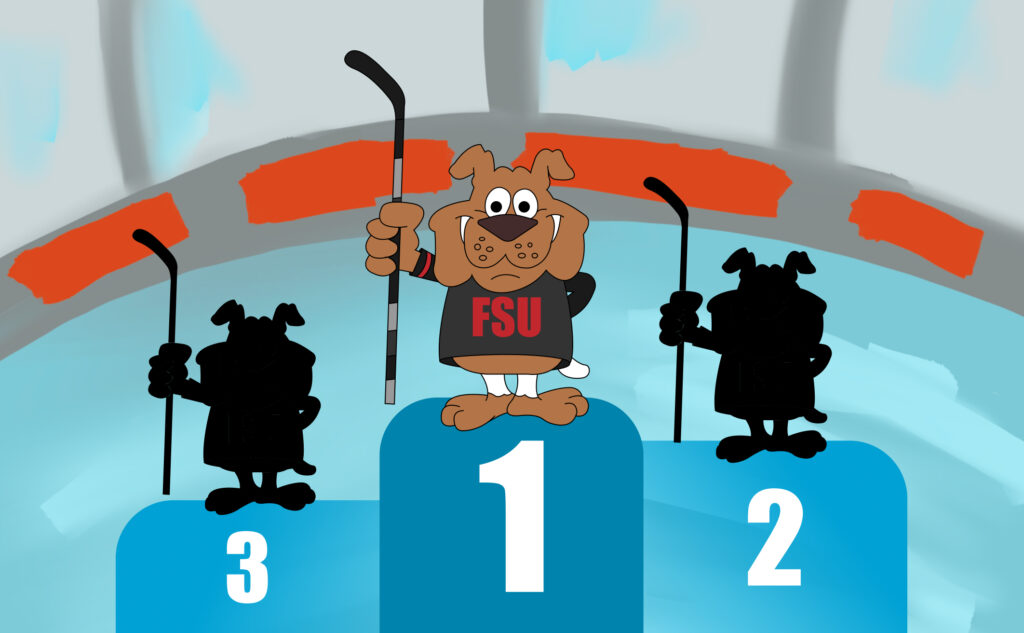 "I haven't even talked with our team about the ranking," Daniels said. "I've been at this long enough to know that the rankings more reflect the last season and [are] a prediction on this season."
As for sophomore forward Bradley Marek, the ranking doesn't sit right.
"The guys are chomping at the bit right now," Marek said. "We're ready to prove the teams wrong… We know we're a better team than that… It makes us mad, but we still got to do what it takes too. We can't just say it, we have to do it."
One of the biggest questions for the Bulldogs concerns their ability to score, especially on the power play. The Bulldogs only had 90 goals last season.That was good for seventh in the CCHA. Even worse for the Bulldogs was their powerplay that finished dead last in the CCHA. Ferris had 121 powerplay opportunities but only 16 powerplay goals to show. This culminates to a 13.2% powerplay percentage.
The closest powerplay percentage to Ferris' 13.2% was St. Thomas at 15.2%. St. Thomas finished dead last in the CCHA standings.
Daniels is also concerned about scoring in general. He mentioned that he doesn't know if the team has a "first line on a championship level team," and said they would try to "score by committee."
In terms of the players on the team, Ferris' lineup looks a little different this year.
Players lost:
Defenseman Brendon Michaelian, transferred to Mercyhurst College
Defenseman Nico DeVita, transferred to University of New Hampshire
Defenseman Connor Fedorek, transferred to Utica University
Forward Justin Michaelian, transferred to University of Maine
Forward Marshall Moise, no eligibility remained
Forward Ethan Stewart, signed with Tulsa Oilers
Forward Liam MacDougall, signed with Cincinnati Cyclones/playing with Norfolk Admirals
Goaltender Roni Salmenkangas, transferred to Lindenwood University
Goaltender Carter McPhail, transferred to Miami (OH) University
Players added:
Defenseman Travis Shoudy, freshman
Defenseman Matt Slick, senior, transfer from Holy Cross
Defenseman Andrew Noel, freshman
Forward Connor McGrath, freshman
Forward Tyler Schleppe, freshman
Forward Caiden Gault, freshman
Forward Jacob Badal, freshman
Goaltender Joey Henson, freshman
Daniels has been impressed with the freshman class.
"I've seen a lot of good things from our freshmen," Daniels said. "Travis Shoudy on defense looks like he's got potential to be a powerplay player. Up front, Connor McGrath and Tyler Schleppe have good offensive instincts, as well as Caiden Gault. We're trying to fit them into those positions as well."
Most recent lineup:
Line 1: Dirks – Pokorny – Schleppe
Line 2: Tulik – Marek – Ergang
Line 3: Deelstra – McGrath – Brancheau
Line 4: Gault – Venuto – Nardecchia
Defense 1: Rons – MacClaren
Defense 2: Slick – Evennou
Defense 3: Cooper – Schultheis
Extra man: Farthing
G- Stein
G- Giesbrecht
It has been made very clear that this team is ready to get out on the ice and prove the CCHA wrong.
When asked about how the locker room felt going into this season, senior defenseman Brenden Rons reinforced this idea.
"We're just antsy. We've been here since the beginning of August," Rons said. "I think we're ready to get rolling here. Everyone's pretty comfortable with each other, and we have a really tight group."
Rons also mentioned that the team would like to bring a "playoff mentality" every night this season.
The Bulldogs played Miami (Ohio) to a 1-1 tie Oct. 1 and lost 4-1 Oct. 2, but they return home Friday Oct. 7 at 7 p.m.
The Bulldogs will debut at home against Michigan Tech in a revenge match. They'll remain at home for five games after their debut.