Some spoke about their troubles immigrating, while others discussed the challenges they faced growing up in the U.S.
On Wednesday Sept. 28, the Hispanic Student Organization hosted a panel event where four guest speakers spoke about their families and their own experiences as Hispanic and Latinx individuals.
Three of the guest speakers are members of the HSO: Alex Eduardo Guzman-Vargas, Gilbert Torres III and Cynthia Mariana Baeza Zavala. The fourth speaker, Hilary Sanchez, is a member of Sigma Lambda Gamma Sorority Inc.
The four guest speakers shared their personal and family experiences with immigration laws, being detained and the issues with the immigration system.
The first speaker was Vargas, a first-generation biotechnology student. Vargas was born in the U.S., but his parents and grandmother are from Mexico. He detailed their journey to the U.S.
His grandparents decided to move to the U.S. for better job opportunities, so they could send money back home to their relatives. To do this, they had to leave their children behind for 10 years.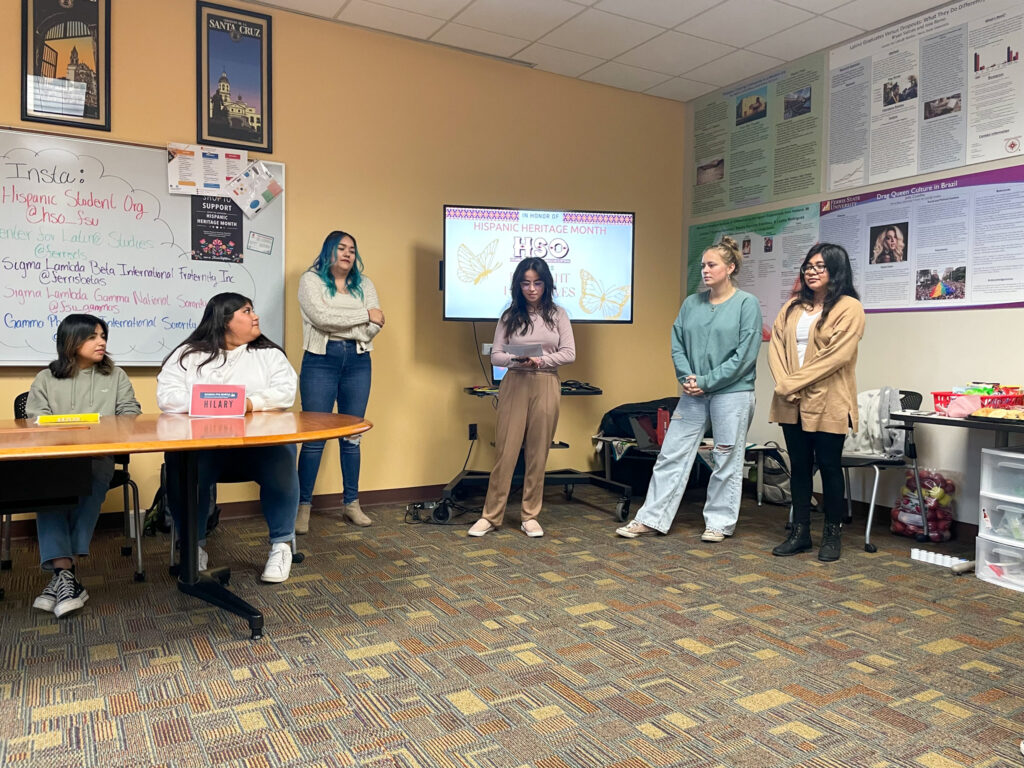 Vargas' father had a difficult time coming to the U.S. He first attempted to relocate with his cousins. They tried to cross the waters with a boat, but they were detained and dropped off in Puebla.
When he was young, Vargas' family went to visit Mexico. On the way back, his father was detained a second time for questioning on his paperwork. Vargas had to go back to the U.S. without his father, who was detained for six months.
"It was a rough time because I didn't have my dad for so long," Vargas said. "We lost our car, [and] we lost our home all because my mom wasn't able to financially support us anymore. [She was] by herself and… trying to figure out what was going on with my dad back in Mexico."
With uncertainty looming overhead due to his father's detainment, Vargas feared having to drop out of school in order to financially support his family.
Zavala's story is about her own personal journey coming to the U.S. and the process she went through to attain legal status in the U.S.
Zavala is a first-generation architecture and sustainability student. She lived in Mexico with her parents until she was three years old.
Moving to the U.S. was hard for Zavala because of the language barrier, however, she felt less out of place because of the community she found at her Catholic school.
"It was mainly Hispanic students, so I didn't feel like I was different from anyone because most of the people there spoke Spanish, so it was easy for me to make friends," Zavala said.
In 2016, Zavala applied for the Deferred Action for Childhood Arrivals program so she could get her license and a social security number. The process took almost a year because she had to hire a lawyer and navigate legal channels without her family.
Some families move to the U.S. for job opportunities, but the Sanchez family moved for the medical services they felt the U.S. could provide. Sanchez, a first-generation business administration student, was born in the U.S.
Originally, her parents moved to the U.S. to work, but when they saw the different opportunities that the U.S. had to offer, they decided to stay.
Some people, like the Torres family, faced social issues after they arrived in the U.S.
Torres is a first-generation social studies education student who was born in the U.S. Torres' mother was tewlve when she came to the U.S. with her father for the first time in 1993. Torres' grandfather promised his daughter that she would get a better education and better life in the U.S.
The Torres family would move back and forth between Frankfort, Michigan and Harlingen, Texas for five years because of seasonal work. Due to moving so frequently, Torres feels he missed out on getting a solid education and making long-term friendships.
In 2012, they stayed in Frankfort and tried to make a living there. Helping them put down roots, a local farmer bought a complex with his own money for his migrant workers to live in. The farmer was seen as an important figure for Latinos in Northern Michigan.
Although some people were inspired to help the Latino community, others were not so welcoming. Torres felt that the local government made it difficult for people in the Latino community to live there.
"Frankfort didn't want my family there…," Torres said. "They kept stalling on passing the regulation policy that the farmer needed to start building a complex for us to move there."
Torres never realized how unwelcome his family really was until last year, when he read an article about the farmer's efforts. In the article, he saw his mother speaking out on problems that the Latinx community faced.
"I found that really, really heartbreaking because I never knew any of that," Torres said. "Like my mom was targeted… in the press and everything, and I didn't know that when I was like 12 years old."
The farmer went to bat for the Torres family. He stood up for them at the Frankfort city council, trying to ensure they had a place to live.
"… When the town voted [against] the complex… he wasn't gonna take no for an answer," Torres said. "He went against all… the city's rulings and the state rulings, and [he] started building the complex without their permission. When he decided to build the complex, we were the first family to move into that complex."
During the voting time, Frankfort residents brought news articles from Mexico that mentioned the drugs, killings and beheadings in Mexico. They placed these articles on the voting table to scare away voters.
Torres never wanted to share what he found with his mother because he didn't want her to think that he saw her differently.
"That is why I like to flaunt my GPA and everything. I take pride in it [because] this is what my mom worked for," Torres said. "I'm here doing her dream… Now my mom [has] bought her first house, and I'm really excited that she's finally making moves in Frankfort and proving everyone in the city wrong. We're not the stereotypes that they thought we were."
Alondra Reyna, the HSO president, is the reason why these four students were able to share their stories. Reyna hosted this event so the HSO could raise cultural awareness and show a sense of community and understanding.
Having events in Hispanic Heritage Month shows appreciation to the Hispanic and Latinx culture. Everyone is welcome to come and celebrate with the HSO.