The registered student organization Media Communications Association held a week-long event called MCA Frag Fest.
Frag Fest was held from Monday, Sept. 26 to Sunday, Oct. 2. It had different daily events that appealed to different audiences.
Monday marked the start of the week-long extravaganza with a "Rapid Sketch event. Participants were asked to draw something that was centered around a theme, and a winner was awarded based on a popular vote.
Graphic design sophomore Parker Tungate took third in the event.
"My friend Jon invited me because he knows some of the people running the event," Tungate said. "It was a lot more fun than I had anticipated, and [I] met some like-minded people with similar interests."
The theme for the drawings was "upside down," so Turngate used the best examples he could think of.
"We were given a prompt, and we were given a few hours to draw. The prompt was 'upside down,' I drew a trapeze artist, Spiderman and MJ and Eleven and Vecna," Turngate said.
Tuesday's event was a standard board game night that everyone loved. Students were encouraged to bring their own games so there were more to choose from.
Graphic design freshman John Thomas went to board game night and enjoyed meeting new people.
"I went by myself because I wanted to meet new people, and that is what I was able to do," Thomas said. "Events like this help people meet others who enjoy the same things as you."
Wednesday was a PowerPoint night. Participants had five minutes to give a presentation on any topic using PowerPoint, and the audience voted on a winner.
On Thursday, students were allowed to bring their own gaming consoles, screens and games to engage in a night of gaming. If you didn't have any consoles, you could still show up and play and hangout with other people.
The last event was a "Game Jam," and it lasted from Friday at 5 p.m. to Sunday at 5 p.m. On Friday at 5 p.m. a theme was announced, and contestants were given 48 hours to finish their game.
Going into the event on Friday, Thomas had a big team with a lot to offer.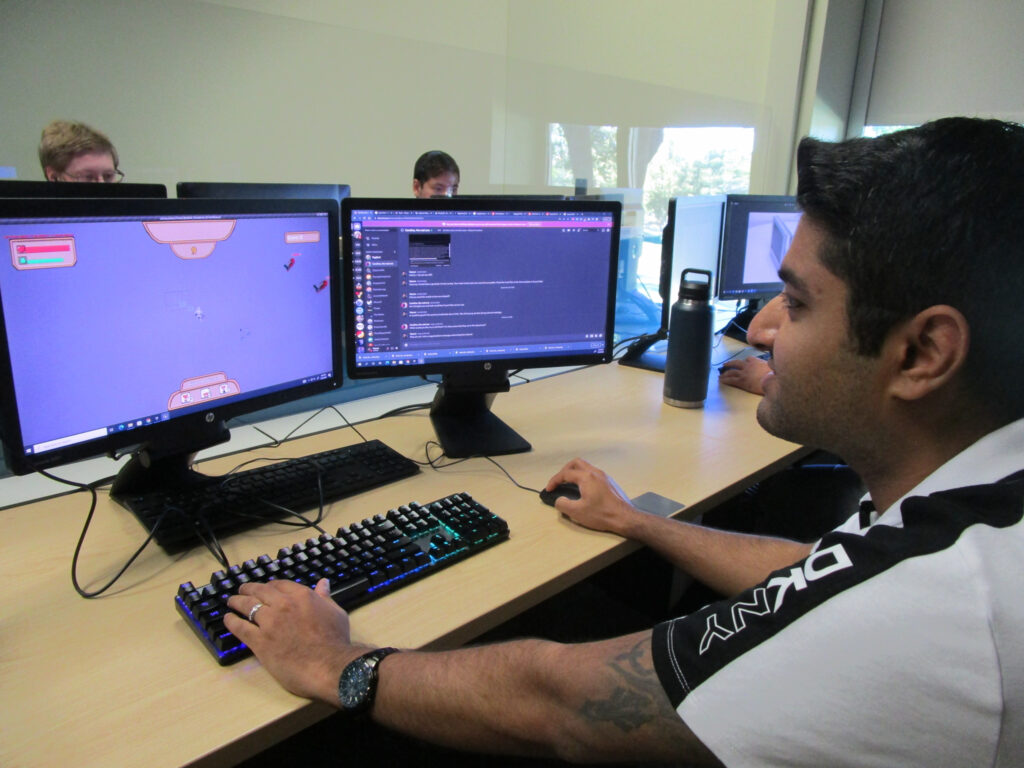 "I have been in talks with some other DAGD students that I know," Thomas said. "Currently, we have maybe five people who can do art. So far, I am the only one who knows anything about programming or using a game engine, specifically Unity. People with knowledge of the Unity game engine are also few at Ferris, since the school uses Unreal Engine. One of my professors recommended talking to students further up in the program and joining their team, but we did not do that. I might try to recruit one instead."
Thomas believed his team did well. The team knew what they did wrong and what they could change if they were to make another game.
"The title of our game was 'Dimming Light,'" Thomas said. "You play as a candle trying to escape Dracula's castle. Every ten seconds your flame gets dimmer until you die at 100 seconds in. We had several versions of the project being made at once. At the end, one had menus and a sprinting bar, and one contained the level. After merging the two, we had a few things that didn't work right."
Thomas's team might have had a disadvantage, since a majority of the team were freshmen.
"Our programmer quickly went through everything the best he could, but by the time the game jam was over, the win screen was still messed up," Thomas said. "We had a lot of things partially done that we had to cut. Primarily animations, since the time to implement them would have been very long. Considering everyone on the team was a freshman at Ferris… I think we made a solid attempt. Next time we make a game we can definitely improve though."
Frag Fest gave students a whole week to gravitate towards events that they enjoy, instead of limiting them to only one day.