Big Rapids soil has been under President Pink's feet for only a few months, but he has already left a footprint.
Pink's resume includes extensive experience with athletics. He competed for the Oklahoma Christian Eagles' basketball team and even picked up NAIA Scholar-Athlete honors his senior year. Pink eventually went into coaching shortly after graduation, where he served as a basketball and tennis coach at York-College in Nebraska. He also spent time as the athletic director and men's basketball coach at Cascade College in Oregon, as well as director of basketball operations at the University of Oklahoma.
"These positions have prepared me for the chair I sit in today," Pink said. "Who I am today as a leader is a conglomeration of the people I have worked with."
Before coming to Ferris, Pink previously served as the president of Grand Rapids Community College for five years. He was elected to the position in May of 2017 after two years as the vice president and dean in workforce development. Prior to this, he worked as the vice president of academic affairs at Oklahoma State-Oklahoma City from 2011 to 2015 and the associate dean at the University of Central Oklahoma from 2007 to 2011.
According to Pink, he is excited to begin working with such a "great institution and community."
"I am very hopeful and focused on how we can piece together the future of this community and institution together," Pink said.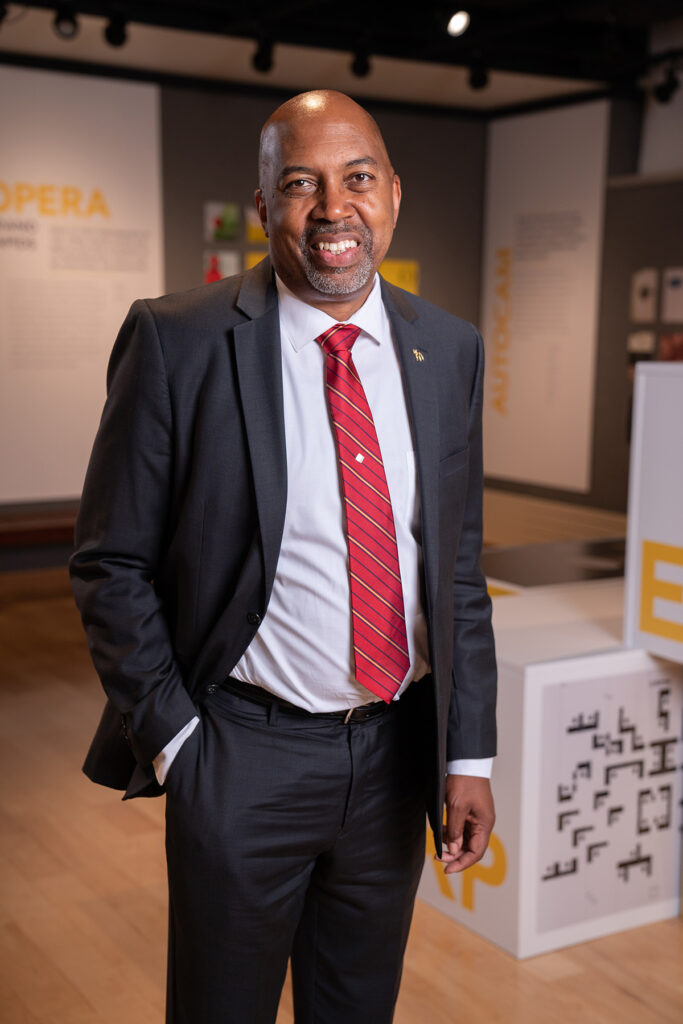 During his time at Grand Rapids Community College, President Pink collected many honors, including being elected to the American Council on Education's board in 2019. One of the most notable characteristics students mentioned about Dr. Pink was how he interacted with the student body.
According to GRCC President of Student Alliance Brendan Burke, Pink was a true definition of a leader.
"There's no better leader than Dr. Pink," Burke said. "He always puts his students first and is always responsive."
In his long-tenured experience in education, Pink collected a doctorate degree in philosophy of instructional leadership and academic curriculum from the University of Oklahoma. He also holds a Master's of education in physical education and secondary education from the University of Central Oklahoma, as well as a Bachelor of Science in physical education and professional education from Oklahoma Christian University. Pink is one of four former Oklahoma Christian students that have served as a college president.
Not only is Dr. Pink the 19th president in school history, he is the first Black president in school history. Pink is excited to provide for Ferris' African American community.
"It goes all the way back to the days when Woodbridge and Helen Ferris established the institution," Pink said. "They established it on a premise of opportunity for anyone in the state. They weren't concerned about what [the] socioeconomic status, color of skin or gender of the person. My hope is that it gives any African American that walks around campus hope and a vision."
So far this fall, Dr. Pink has sought input from the statewide community on ways to improve the university. In his "Link with Pink" tour, Pink made various stops around the state to talk with former alumni and Ferris supporters at local restaurants and event centers. He has shared his vision in Muskegon, Traverse City, Detroit, Flint, East Lansing, Midland, Grand Rapids, Kalamazoo and Big Rapids. Pink's tour has two more events slated: one being a virtual conversation on Oct. 13 and one in Holland on Oct. 26.
Throughout the weeks of conversing and talking about his institutional vision, Pink said he feels excited with the amount of feedback he's gotten.
"The tour has been really strong," Pink said. "The alumni all over the state and across the country are still strong Bulldogs, and [they] continue to be connected with the school. I'm loving to commit being connected to this alumni base."
The tour also brought feedback for a new vision document President Pink is planning to unveil at his inauguration ceremony soon. One major emphasis within the document is improving the opportunities available for what Pink called "non-traditional" students, or students over the age of 25 years old.
"We can be such a resource for some of those individuals," Pink said. "Getting them post-secondary credentials will lead them to really good paying jobs so they can take care of their families."
Another large piece Dr. Pink would like to add to the puzzle is strengthening awareness statewide with Ferris' extended education opportunities.
"We have about 20 places across the state," Pink said. "I want to better position our work in West Michigan as well as what we can do in the southeast in the Detroit area. We need to see how we can strengthen these relationships, especially with community colleges across the state and country."
All of these plans will be revealed at President Pink's inauguration ceremony slated to be held on Oct. 8 at 11:30 a.m. The ceremony will be held in Williams Auditorium with a campus and community reception to follow from 12:30 p.m. to 3:30 p.m. at the Robinson Quad. All delegates are also invited to an inauguration brunch being held before the ceremony at the David L. Eisler Center from 8:30 a.m. to 10:30 p.m.
Students will also have an opportunity to meet Dr. Pink before the inauguration at a school-sponsored student picnic, which will take place on Friday, Oct. 7 from 1 p.m. to 3 p.m. All students are invited to enjoy hotdogs, corn hole and conversational opportunities.