Women's volleyball dominated this weekend and picked up wins over Northern Michigan and Michigan Tech to climb atop the GLIAC standings.
With the weekend wins, the Bulldogs move to 10-7 in the season and 8-1 in the GLIAC.
Friday's match betwen the Bulldogs and Northern Michigan was a battle for first place in the GLIAC. Ferris took the first two sets 26-24 and 25-22.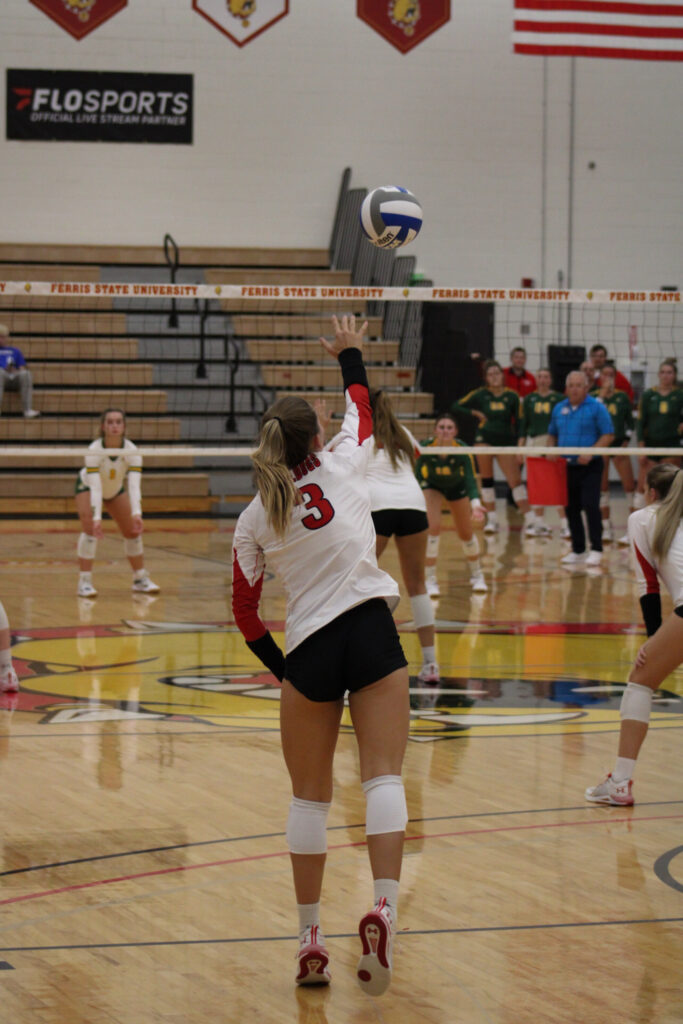 Northern Michigan responded by taking the third set 25-23. The Bulldogs then dominated the fourth set 25-13 to seal the victory.
Claire Nowicki and Emma Bleecher led with 16 kills, and Syann Fairfield followed up with 15.
Those were set up by Kaylee Maat's 55 assists in the matchup. The Bulldogs as a team had 64 assists on the day.
"So, it wasn't just me," Maat said regarding her 55 assists. "Our passers were passing well, hitters are putting the balls away. So, it's more than just me."
The Bulldogs started slowly against Michigan Tech the following day, as they lost the first set 25-16. They swept the remainder of the match and won 3-1.
"I was just happy our players responded," head coach Tia Brandel-Wilhelm said. "We didn't come out great, but they responded to that well and, you know, kind of kept their composure and went back to our basics."
Nowicki led again with 13 kills, Olivia Henneman-Dallape had 12 and Syann Fairfield had 9. The Bulldogs had 48 total Ks as a team.
Maat had 46 of the team's 48 assists during the matchup.
The Bulldogs will look to continue their success this upcoming week as they go on the road.
They face Purdue Northwest on Friday, Oct. 7, and then Grand Valley State Saturday, Oct. 8, before heading into the Midwest Region Crossover.