Ferris was 30 minutes away from starting 2-0 at home.
The Bulldogs debuted at home on Friday with a strong 2-1 win over the Michigan Tech Huskies. On Saturday, they jumped out to a 3-0 lead over Western Michigan midway through the second period, but they ultimately lost 6-4.
Ferris (1-2-1) spoiled the Huskies(2-2-0) start of the regular season after some early success and a strong individual performance from junior goaltender Logan Stein.
Stein saved 28 of 29 shots while coming up big in the third period to slam the door shut against a Huskie comeback.
Head coach Bob Daniels was very impressed by Stein's first two performances to start the season.
"In the two games he's played, it'd be hard to imagine a goalie playing better than how he's played," Daniels said. "Now with that said, Noah [Giesbrecht] is fully capable of coming in tomorrow and having a great game. Those two are dynamite. I'd be hard pressed to think there's another college team that's got a tandem as quality as those two."
The Bulldogs traded blows with Michigan Tech in the first period. Freshman Tyler Schleppe capitalized on an opportunity and scored only 16 seconds into the game for his first collegiate goal. Five minutes later, the Huskies tied it up.
The deciding goal came 15 minutes into the second period, courtesy of senior forward Dallas Tulik.
Stein faced 21 shots in the second and third periods, and he saved all 21.
"I think this is where the expectation has been for me," Stein said. "I'm starting to find my groove, and I'm starting to mature a little bit. Hopefully, I can continue on this path because I think expectations are high for me, and I like when they're high. It's a good thing when they're high."
The last four contests against Michigan Tech before Friday night's win went to overtime. Most recently, the two overtimes that eliminated the Bulldogs from the playoffs.
Despite the Huskies being responsible for ending the Bulldogs' season last year, Daniels did not view the win as a revenge match. As Stein put it, it was "just another game."
Despite the win, Daniels highlighted causes for concern.
"We're playing too much in our own zone and not enough in the offensive zone," Daniels said. "We've got work to do there. I think it's just a matter of being a little bit more aggressive than we are right now."
This concern is certainly quantifiable. Through four games, including Western Michigan, the Bulldogs have been outshot in three of those games.
Noah Giesbrecht started Saturday's game against Western Michigan. The Bulldogs took a 3-0 lead by the midway point in the second period. However, the Broncos fought back and ultimately came out with a 6-4 victory.
"It was a tale of two games," Daniels said. "We came out great and built a 3-0 lead. From there on, there wasn't a lot to cheer about. It's excuse making, but the reality of the situation was this was our fourth game in eight days. Western didn't play last night, and you could see as the game went on they had more jump than we had. Once we fell behind, we didn't have the pushback we needed. We just didn't have the energy."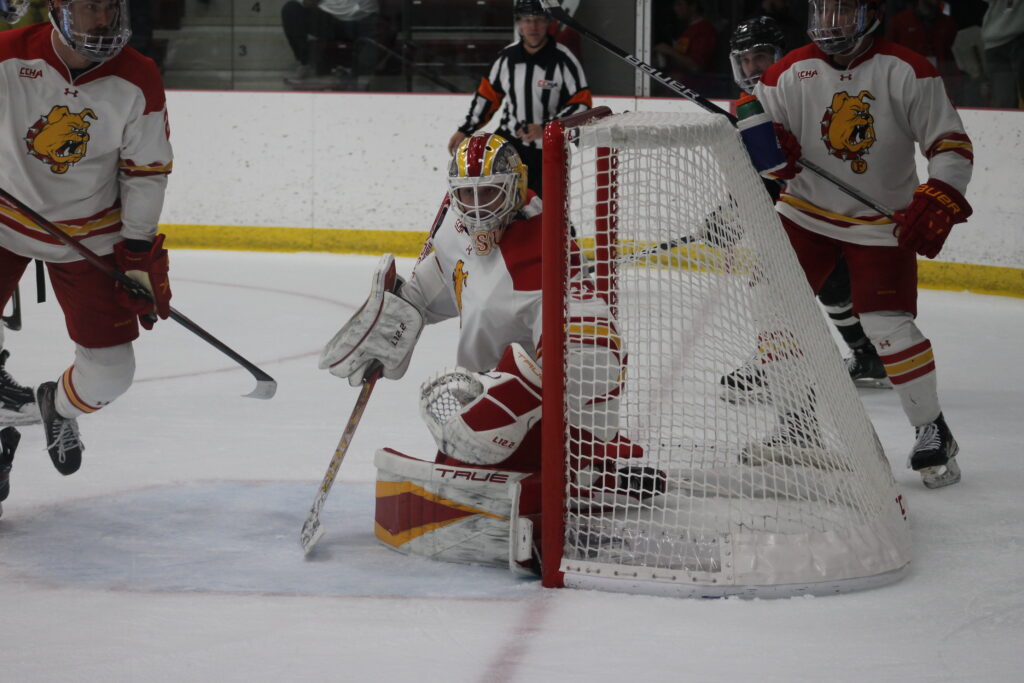 Connor McGrath scored his first collegiate goal on a power play at 8:06 in the first period to give Ferris an early lead. Blake Evennou and Dallas Tulik each picked up assists.
Western Michigan finished the first period with four penalties. One of those penalties was following a big hit to Nick Nardecchia. After a head injury, he did not return to the game, and he joins Stepan Pokorny, Kaleb Ergang and Austin McCarthy on the injury report for the Bulldogs. Daniels believes they all have a chance to play this upcoming weekend.
At the end of the first period, the Broncos had 11 shots on goal compared to just six for Ferris, but it was the Bulldogs who took a 1-0 lead into the second period.
At 7:50, Brad Marek gave Ferris a 2-0 lead with his first goal of the season. Evennou picked up his second assist of the night and Jason Brancheau also assisted.
Ferris took a 3-0 lead at 8:57 when McGrath scored his second goal of the game. Tulik recorded another assist.
That lead would not last for long though because Western managed to score four times before the third period.
Their first goal came at 10:53 in the second period on a power play. Then, Jason Polin sifted through the Bulldog defense for an unassisted goal at 14:46. Western Michigan tied the game at 15:55 with an unassisted goal from Carter Berger. They took the lead at 19:43 on a set play where Ryan Mcallister took a pass from Max Sasson and put it past Giesbrecht in goal.
Stein took over the net to start the third period for Ferris. Daniels said he did not fault Giesbrecht for the performance.
"I've seen enough out of [Giesbrecht] in practice to know he's really good," Daniels said. "Tough job for Logan [Stein] after playing last night and having to come in cold, but I thought he did a good job too. Right now, I would grade our goaltending an A- for the year. We just have to get our team play up to that same A- category."
At 1:05 in the third period, Ethan Wolthers scored his first collegiate goal for the Broncos and extended their lead to 5-3. Polin scored another goal on a power play late in the third to push Western's lead to 6-3.
Ferris had three more power play opportunities in the final period and scored on the final one at 19:48. Marek recorded his second goal of the season. Deelstra and Drew Cooper assisted.
"We have to continue on with the build aspect going into next weekend," Marek said. "We need to see what we did to Michigan Tech. We're a special team here, and we'll continue to prove people wrong."
In the 6-4 loss, Ferris went 2-10 on the power play and killed three of five Western power plays. Stein took the loss in net and moved to 1-1-1 on the season.
"I'm not going to hit the panic button," Daniels said. "I saw some good things early and some good things late. I was appreciative of the effort."
Daniels wants to "throttle back" a little bit in practice this week and allow his players to get some rest.
"We have four forwards out," Daniels said. "We might need to back off just a little bit right now because the guys that are playing are playing a lot of hockey right now. They almost need a bit of a blow."
Ferris will be back home Friday and Saturday against Canisius at 7 p.m.
Opinions Editor Dylan Rider contributed to this article.