The registered student organization Entertainment Unlimited gave students the opportunity to win free food at last Tuesday's grocery bingo.
EU's grocery bingo is a mid-semester tradition. Around 50 students came to the David L. Eisler Center ballrooms to play the game and restock their kitchen or dorm cabinets with free food.
Data presented by the Annals of Anthropological Practice show that up to 59% of students experienced food insecurity to some degree before the COVID-19 outbreak. First generation students and students of color are disproportionately affected, and the numbers increased post-pandemic.
Grocery bingo is one of several ways Ferris students are able to get the food they need.
"I thought it sounded fun, [and] I wanted a chance to win groceries. I'm a broke college student, and free groceries would be nice," pre-optometry sophomore Emma Aho said.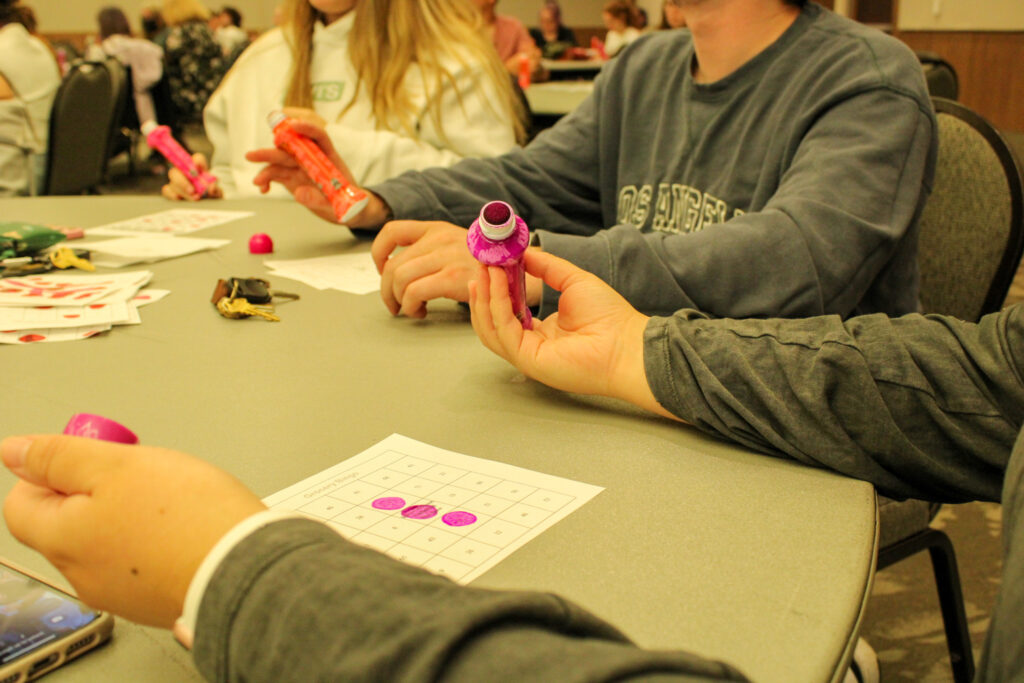 Students attended grocery bingo for fun competition, campus involvement and snacks to complete their studies.
Forensics freshman Liah Perez and elementary education senior Vanessa Garcia both won in the first round.
"It seemed like it would be fun," Perez said. "It got me out of my dorm, and my friends wanted to go. I'm excited that I won. I didn't think I would, so it was a great experience."
Pre-optometry freshman Janelle Lekies said it was "the perfect event." She hopes to go to other EU events in the future.
"I wanted to participate in a campus activity, and I wanted to win free food," Levies said. "I have been able to talk to a few people, which was nice. The event overall was awesome to go to, and I hope they do something like this again."
Marketing senior Rianna McCafferty wanted to find a way to get food, since she doesn't have a meal plan.
"I don't have a meal plan, and this was a fun way to see if I could win free food," McCafferty said. "It was a competitive night, which I enjoyed because I am a competitive person."
EU is Ferris' Campus Programming Board. The organization is made up of motivated students who have a general interest in entertainment and enjoy planning and implementing campus events. EU coordinates a variety of events each semester, including comedy shows, film screenings, concerts, grocery bingo and more. Meetings are on Mondays at 6 p.m. in DEC 217.
To find out more information on EU, check their RSO page on Bulldog Connect for upcoming events.
If you or anyone you know is in need of food for any reason, visit the student food pantry in lower level of the Wesley House at 628 S. Warren Ave. The pantry is open Monday-Friday from 4:30 p.m. – 7 p.m. or by appointment.