Gov. Gretchen Whitmer announced a $2.36 billion investment project with battery manufacturer Gotion to place an electric vehicle battery components facility in Big Rapids.
Whitmer and the Michigan Economic Development Corporation announced financial support for the project, dubbed "Project Elephant," from the Michigan Strategic Fund. Leading members of Gotion, the MEDC, Ferris' board of trustees and Consumers Energy gathered for last Wednesday's statement.
"This was a competitive project with a lot of different states in the mix," Whitmer said. "And we're proud that Michigan will be home to [Gotion's] first manufacturing presence in North America."
Ferris President Bill Pink introduced the governor in Boyer Hall of Kendall College of Art and Design and emphasized the value of Ferris' partnership with Gotion in this project.
"Not every day does a company [like Gotion] come into town to say, 'We want to invest in your community, invest in your people, invest in what the future is,'" Pink said. "[This] will be big for today [and] for years and decades to come."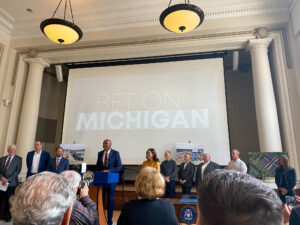 Pink sees the project as a potential enrollment booster. He believes this partnership between Ferris, Gotion, the MEDC and many other entities across both the county and the state "will provide strong connections [and] pathways for our students." In the future, Pink explained, Ferris will educate prospective Gotion employees as well as those who return to school for upskilling and other certifications.
"[It is] going to be a great opportunity to just blow this thing out to where our students have not only an incredible opportunity, but they have a really cool career path that they can choose with a really good company," Pink said.
This project is already 15 months in the making. After a lengthy planning period, the Big Rapids facility is set to include two 550,000 square foot production plants, two anode production plants and other supporting facilities spanning an estimated 260 acres.
Vice President of Gotion and Ferris graduate Chuck Thelen explained why Big Rapids was chosen for the project. As reported by the Pioneer, Thelen cited Ferris, a "superior technical college," as well as the town's skilled workforce and access to sustainable energy. Gotion is committed to running the Big Rapids facility with 100% renewable energy.
In late September, the Big Rapids Township and Green Township's board of trustees approved a 30-year renaissance zone in support of Project Elephant. As a renaissance zone, this designated plot of land across the Big Rapids Airport Industrial Park and Green Township would be virtually tax free for new businesses.
As the automotive industry introduces more electric vehicles, Whitmer identifies "range anxiety" as a consumer's number one concern. To alleviate this anxiety, Whitmer stated that Gotion batteries will run for 600 miles on a single charge. This is enough to travel from Big Rapids to Nashville.
Whitmer believes that Michigan is a leader in the effort to make owning and driving electric vehicles more "accessible." The state has joined the Great Lakes charging network and installed vehicle chargers at state parks in a "unique partnership." The governor has also proposed "purchase relief" for electric vehicle buyers, though the proposal has not been through the state legislature.
Garrick Rochow, CEO of Consumers Energy, does not go so far as to say that the public is "resistant" to the transition to electric vehicles. As more people see their neighbors buying electric passenger vehicles, or see their employer use electric delivery vehicles, Rochow believes people will get used to this "something new." Rochow also referred to an "electric concierge service" in which Consumers Energy would connect electric vehicle owners with proper electricians for in-house charger installment.
Whitmer expressed gratitude for the bipartisan cooperation that went into making Project Elephant and three other statewide manufacturing investment projects possible. 
Republican gubernatorial candidate Tudor Dixon released a recent advertisement speaking against the project. With Gotion, Inc. being a California based subsidiary of Guoxuan High-tech Co., Dixon stated that tax dollars are going into "an adversary, a Chinese corporation."
There are still local decisions to be made regarding infrastructure, land purchasing and site plans between Big Rapids and Green Township. Paul Bullock, Mecosta County controller/administrator, stated that students currently enrolled in local middle schools could be hired by the Big Rapids Gotion facility by the time the hiring phase is fulfilled.