For the first time in three years, members of Ferris' accredited College of Pharmacy networked at Thursday's in-person career day event.
Ferris' College of Pharmacy is ranked third in the state by the Accreditation Council for Pharmacy Education. In the Hagerman Pharmacy Building, students attending career day met with Big Rapids pharmacists and representatives from Walmart, Walgreens, Rite Aid, Meijer and SpartanNash.
During meet and greets with each company, students discussed internships and scheduled one-on-one interviews with the companies in attendance. Students were also given the chance to have lunch with the companies to learn more about them.
P2 Holly Wright, a second-year student of the College of Pharmacy, took advantage of the opportunity to interact with professionals in her field at career day.
"I was interested in networking with all of the pharmacy professionals," Wright said. "I'm looking into residency after school, and I wanted to look at what opportunities were available to me."
P2 Kelsea Coty believes other pharmacy students, even those who are hesitant or nervous, should attend networking events and connect with professionals before they graduate.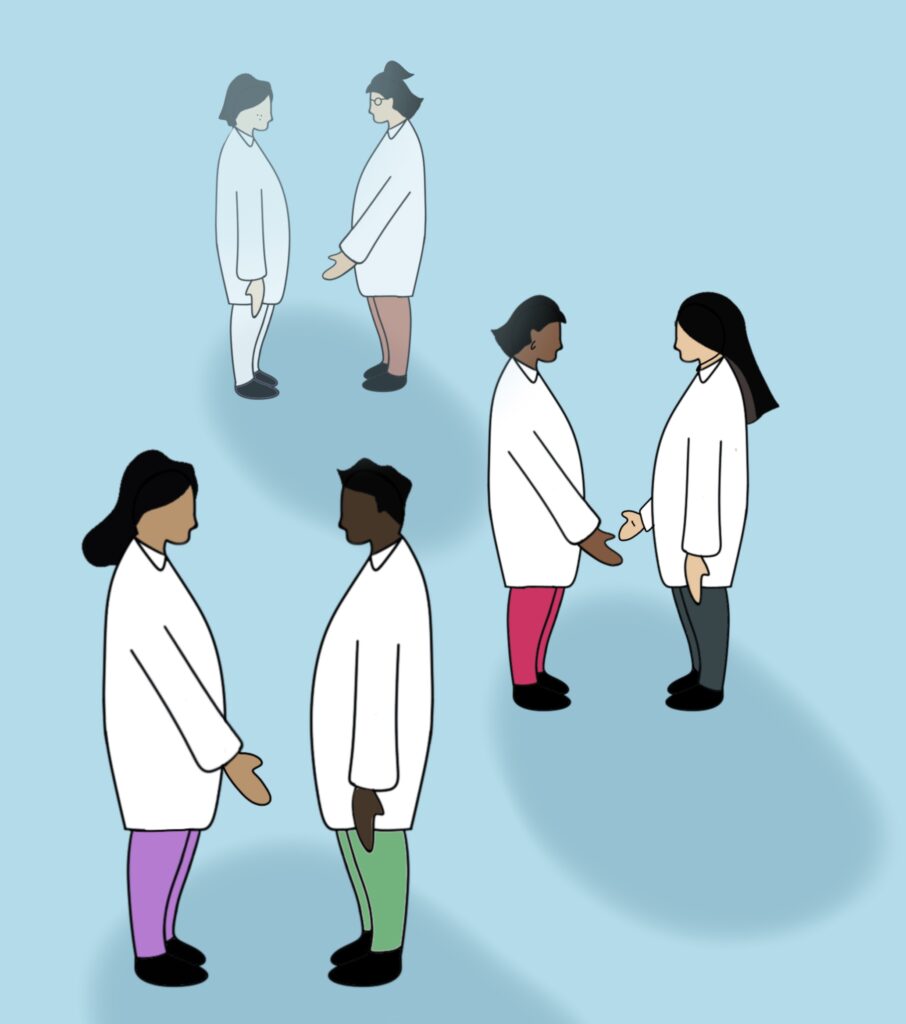 P2 Chloe Still used this event to confidently introduce herself as a prospective pharmacist.
"[I've] never worked in a pharmacy before, so I wanted to meet the managers," Still said. "I definitely think it's beneficial to come out and meet people."
The College of Pharmacy focuses on several different levels of training, from drug stores to trauma centers. These trainings include partner labs, seventeen hundred hours of field experience and training in both community and institutional settings.
Dr. John Sloan, pharmacist and Market Health and Wellness Director at Walmart, explained that the Walmart pharmacy is looking for future employees that would truly fit the company.
"We came out today because we have Walmart stores all over Michigan, specifically in west and mid-Michigan," Sloan said. "We look forward to forming connections with students and getting to know their interests and really finding out who our company would be for."
Rite Aid pharmacist Dr. Mark Phelps attended the event to engage with new students who are willing to learn, whether they be "up-and-coming" pharmacists or technicians.
Walgreens representative Dr. Emily Torong explained what Walgreens has to offer students.
"The potential for growth and the diverse opportunities that we offer as well as how we are revolutionizing pharmacy to be different than the normal healthcare system." Torong said. "We have opportunities throughout the nation, and we have interns who are just getting started in pharmacy."
Dr. Jamie Vroman, a clinical pharmacist specialist at Meijer, believes students need hands on, in-person experience to understand how the industry has evolved over the years.
"Retail pharmacy has changed so much in the last few decades," Vroman said. "For pharmacy students to really get an idea of what we do, there [is] a lot of clinical testing."
Dr. Shanielle Rypma explained that SpartanNash is focused on getting their company on pharmacy students' radar. With limited interaction with Ferris students in the past, Rypma wanted to show them who SpartanNash is.
After career day, pharmacy students return to their studies with new connections and knowledge within their field.