Dignitaries, family members and students gathered to honor the official inauguration of Dr. Bill Pink as Ferris' 19th president and first Black president.
The ceremony 
On Saturday, Oct. 8, Pink took to the stage of Williams Auditorium for a cheerful and tearful ceremony. The audience responded to his inaugural address with applause and laughter as Pink shared lessons from his previous work as a basketball coach and wise words from Woodbridge Ferris, Lin Manuel Miranda and LL Cool J.
"This university plays big," Pink said."It doesn't just sit back and decide that, as a 10,000-student campus, there are some things that we do and can't do. This has to be a university that thinks big all the time because you've asked a person to come to this space that loves to play big all the time."
Chairperson Amna Seibold welcomed Pink into his new position in the "Ferris family" by the power vested in Ferris' board of trustees. She called upon Pink to make students the "first, second and last priority of everything [Ferris] does."
Seibold believes that with Pink as president, "we have the right man, in the right place, at the right time."
"[Pink] puts an exclamation point on diversity," Seibold said. "Beyond that, he has the skills, he has the energy, he has the drive and the vision. He has seen so quickly things that we can improve on… I'm not sure he sleeps at night, but he really gets it. To have that kind of a visionary, energetic leader right now, it's a blessing."
Seibold carried on tradition by presenting Pink with a presidential medallion of office. The medallion and chain were designed and created by a faculty-student duo at the Kendall College of Art and Design. The chain incorporates the names of Ferris' 18 previous presidents, including Pink's predecessor, David Eisler.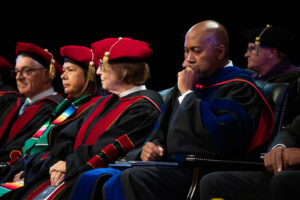 "To see [Pink's] enthusiasm for the university, and to see the genuine way that he cares for students, I think it just bodes really great things for the future," Eisler said. "I look forward [to] great things for Ferris under his leadership."
Members of Pink's family traveled from as far away as Texas to support him on Saturday. He became emotional when acknowledging the three vacant seats reserved for his late mother, father and father-in-law. 
Lydia Pink, a healthcare management sophomore and the president's daughter, said the family felt "very loved" at the ceremony.
"I'm very proud of [my dad]," Lydia said. "It's also emotional to watch how far he's come in the journey of his career ever since I was born. It's really amazing."
Dr. Kasey Thompson, an associate professor of management, led and presided over the ceremony. She and President Jennifer Wheeler of the Black Alumni Association touched on what having a Black university president means for Ferris.
"He is a symbol of possibility," Thompson said. "To extend that to all of our students, he is a source of inspiration to anyone who wants to break barriers or anyone who wants to do what seemingly may be impossible."
Wheeler shared that she and other alumni get emotional when thinking about this historic moment for Ferris. She has seen graduates from the 1960s tear up when they heard the news, not thinking it would ever happen in their lifetime.
Pink was also the first Black president of his previous institution, Grand Rapids Community College.
"You are our work" 
Pink often reminds Ferris students that they are never an interruption. He believes that they are his work. Fittingly, his inaugural weekend began on Friday, Oct. 7 with a student picnic in the David L. Eisler Center.
Students had the chance to play indoor cornhole, meet the president and "enjoy a hot dog with the top dawg." Throughout the afternoon, Pink was consistently greeted by a line of students waiting to speak with him about life at Ferris.
Echoing the words of Thompson and Wheeler, pre-science freshman Jaylon Grimes appreciated seeing a Black, "down to earth" president interacting with students.  
"It's really empowering," Grimes said. "It's nice to see a Black president of the university. It does, in a way, help me connect to the university a little bit more."
Dental hygiene sophomore Emily Kearney sees Pink on campus often. She believes that by interacting with the student body, Pink shows that he is "truly kind" and cares about the Ferris community.
Grimes and Kearney are only two of the many students who enjoyed the free food and customized President Pink memorabilia — from cookies to Popsockets — at the student picnic. They were also joined by members of Ferris' cheer team and Brutus the Bulldog.
Looking Ferris forward 
To conclude his inaugural weekend, Pink gathered at the Robinson Quad with other community members for refreshments and hors d'ouerves. Members of Ferris' pep band kept spirits high as people enjoyed cider, donuts and a new era at Ferris.
After the inaugural picnic, brunch, ceremony and reception, Pink felt "relieved."
"I always feel like an inauguration is for the campus more so than for the president," Pink said. "It's an opportunity for the campus to enjoy a renewal… It was important for our campus and community to hear where I believe we need to go."
Pink believes that the Ferris community of faculty, staff and students must work together to bring the university "Ferris forward" under his administration.