On Oct. 7, actor turned mental health advocate Sean Astin came to Williams Auditorium to speak to the Big Rapids community about the importance of opening up the mental health conversation.
Astin is well-known for his roles in "Stranger Things," "The Lord of the Rings" and "The Goonies." What individuals may not know is that he has become a mental health advocate because of his mother.
Anna Marie "Patty" Duke, Astin's mother, was also an actress who accumulated much love and countless awards and dedications. In 1985, Astin says Duke was diagnosed with bipolar disorder. He grew up seeing his mother's struggle with mental illness affect aspects of both their lives.
Before diving deep into what he experienced through his mother's mental illness, Astin stated that he was not a professional or expert on mental health. He also said that everyone must do their own research on this topic to find what will help them best in their mental health journey.
"Mental health, mental illness [and] mental challenges [affect] every single person," Astin said. "In a lot of ways, our country is really struggling with helping meet the problem, and one sure fire way to advance the cause of mutual understanding is communication."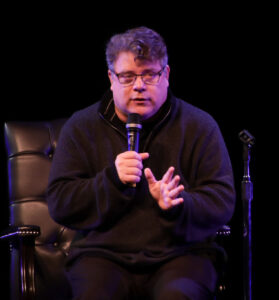 Throughout the evening, many of his discussion points came from his personal experience with mental illness and trauma and his desire to continue to be a foot soldier for this ongoing problem. Astin has travelled all around the country to open up conversations on mental health for people.
"It touches everyone," Astin said. "People really appreciate it, and my goal is to just share the story of my family's challenges with mental illness. That act alone is modeling that it's okay to talk about painful things; it can be helpful for people."
Astin said he tries to be a model for people who have dealt with difficult experiences, as sometimes speaking about what a person is feeling can help them on their path to healing. A big reason why Astin came to speak at Ferris is because he believes that there is a level of openness in a college setting that most don't find in other settings in the world.
The main idea Astin wanted to get across was that mental health should be acknowledged instead of ignored. After a difficult two years in a pandemic, Astin hopes mental health is something everyone takes care of first and foremost so their challenges never get too out of control.
"Sometimes, if you breathe in and out, that's enough," Astin said. "When you realize you are alive and can eat. You are obligated to not be stressed."
Astin ended his talk with a few words of advice. One, that you are your own human being — no matter what a doctor or anyone tells you — and you can decide how to handle your own health as you choose. Two, always protect yourself physically, and do not let yourself become victimized. And three, nobody is better than anyone else. Everyone is equal.