Do you start your day by waking up, having a nice workout and eating a banana and boiled eggs on the way to work? If you do, chances are you might be Ferris' new president, Dr. Bill Pink.
Pink offered the Torch a look into his daily life one week following his inaugural ceremony.
Pink normally doesn't like to schedule events until after 9:30 a.m. This gives him time to complete work in his office. On this day, however, technology students and faculty awaited Pink in the Granger Atrium for breakfast and a greeting to start the president's day. Pink went to speak with students about the importance of our technology program and how they can use it to further their goals once they graduate.
Once he got back from the greeting, he filmed a "hype" video for the Ferris vs Grand Valley football game that happened on Saturday, Oct. 15.  He spoke about the significance of Saturday's game, as Ferris and Grand Valley were battling for the number one spot.
After filming, Pink had his "breathing time." Then, he is finally able to open his emails, respond to them and talk to his secretaries. Pink explained that something as small as a text message is a big way to maintain different relationships.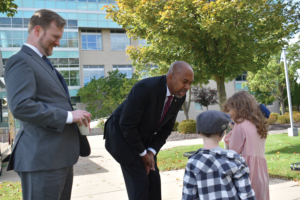 Terri Cook, one of Pink's secretaries, enjoys the relationship she has built with Pink.
"It's been great," Cook said. "He's very easy to work with. I'm glad he's here… It's nice because he rolls with the punches. It's a breath of fresh air, and he's approachable and easy to talk to. [Pink] is someone who won't ever turn away a conversation, and it helps having a boss like that."
As Pink emailed the athletic department to buy a block of football tickets for staff, he expressed that emailing can be one of the toughest parts of his everyday work.
"I get so many different emails from a lot of people everyday," Pink said. "I try to respond as soon as I get them… Sometimes I'll respond to an email late at night, but I'm fine with it because I want them to get their answers."
Then, Pink reviewed the list of people who would be joining him in the President's Suite for Saturday's game. These are often donors and friends of the university. This particular list included each person's name and how they are related to Ferris, which Pink uses as conversation starters.
Pink gives his staff freedom when it comes to scheduling. They are currently looking for a way to make a calendar for the full staff to have for the campus, as well as Big Rapids.
At the end of the day, Pink was interviewed for a podcast. This podcast was aimed towards personal growth and development in higher education. Pink talked about how he graduated from the University of Oklahoma, became a head coach for basketball and how he ended up as Ferris' president. Pink also spoke about his time on the Board for Core Health.
President Pink's answers all revolved around the central theme of taking risks fearlessly.
"If you aren't willing to take risks for your future career, or anything for that matter, you don't want it bad enough," Pink said.
Looking ahead, Pink will conclude the "Link with Pink" tour in Holland, Michigan on Oct. 26.