It took 44 tries, but an opposing football team finally beat the Bulldogs in the regular season.
After 43 straight regular season victories, Ferris suffered their first regular season loss on Saturday to #2 ranked Grand Valley.
Quarterback Mylik Mitchell transferred to Ferris in 2019, and this was the first loss he suffered as a Bulldog.
"Before I came here, I was kind of used to losing," Mitchell said. "I came here and I haven't lost yet until today. I haven't lost an intramural basketball game or a ping pong game or anything until today. This is going to hurt."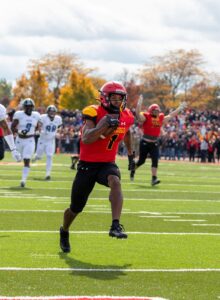 The Bulldogs played in front of a record 12,661 fans and led the contest 21-10 entering the fourth, but gave up 12 unanswered points to the Lakers in consecutive drives and committed two straight turnovers to end the game.
"I want to get a job where there isn't a broken heart, but I don't know what that is," head coach Tony Annese said. "We beat them six times in a row up to this point, so they had their heart broken six times. It's a fifty-fifty deal. That's the way sports work."
Grand Valley started out the game with a dominant first drive, scoring off a three-minute, 60-yard drive with a wide-open touchdown catch by Jack Provencher. After an initial punt on their first possession, Ferris answered at 5:54 in the first quarter with a 31-yard touchdown connection between Marcus Taylor and Mitchell. This was Mitchell's first game back since he sustained an injury in the home opener on Sep. 1.
"As long as I can get out there and get the play started, I am going to play," Mitchell said. "I played the game and did my job to the best of my ability."
Taylor continued his strong play throughout the first half. Following a long drive and field goal for Grand Valley, the Bulldogs moved the ball down to the 31-yard line after a Laker personal foul penalty and pair of big passes. Taylor capped off the scoring drive on the ensuing run play up the middle.
Grand Valley threatened to score on their next drive, converting on a crucial third and fourth down in field goal territory to reach the eight-yard line. The Bulldogs had three straight defensive stops to force a fourth down decision from Grand Valley head coach Matt Mitchell, in which he decided to go for it and was stopped to end the half.
Each team's defense continued to lock down opposing offenses at the start of the second half. Pressures began to mount up from both teams' defensive linemen, causing multiple sacks and tackles for loss on both sides. Ferris began to get the offense on the second drive with short passing concepts, reaching field goal range. Eddie Jewett came on for a field goal try but missed wide to the right.
The Bulldogs defense responded with the first takeaway of the night, where Sidney McCloud intercepted Cade Peterson's pass to give Ferris a second chance to score. Carson Gulker punched in the third Bulldog touchdown just under two minutes later from seven yards out.
"[Sidney McCloud] played great," Annese said. "He covered a very good receiver and did a nice job."
After the turn of the fourth quarter, Grand Valley began to find offensive success. The Lakers increased their yards per play to 8.1, as opposed to their game average of 5.7. They scored after a 10-play drive with a one-yard rush, cutting the Bulldog lead to five after a failed two-point conversion. 
Following a second punt from Ferris, Grand Valley scored again, thanks to multiple big runs, and took a 22-21 lead with 3:31 to go.
"We let them get us at a crucial moment," McCloud said. "It was an uncharacteristic two drives for us."
With the offensive line struggling, Ferris needed a spark to get back on track. On the second play of the drive, C.J. Jefferson looked to be breaking away for a big play until he coughed up a fumble on the 41-yard line. Ferris gained a second opportunity, virtue of a Laker fumble. They faced a fourth down and five and it appeared the Lakers jumped into the neutral zone. Ferris did not snap the ball and was then called for a false start. Mitchell threw an incompletion on fourth down.
"We got them in our neutral zone for offsides, and everybody in America was just trying to get someone to snap the ball," Annese said regarding the play. "There's a lot of pressure in every play down the stretch."
The Lakers ran out the clock and took the rivalry trophy back to Allendale. Grand Valley had 425 yards of offense, 74 plays and 34:33 in time of possession compared to 316 yards, 53 plays and 25:27 of possession time for Feris. Ferris committed six penalties, while Grand Valley committed four, each for 35 yards. The Bulldogs forced two Laker turnovers and only committed one.
Mitchell paced Ferris' passing attack with 235 yards on 19 completions and one touchdown. Taylor led the Bulldogs on the ground with 56 yards on five carries, while also adding 82 yards receiving on five catches. Jefferson had 83 yards on six grabs, and Tyrese Hunt-Thompson added 45 yards on five receptions. Jewett finished three for three on extra points while missing his only field goal attempt.
Defensively, Caleb Murphy registered nine tackles, followed by Jacarvis Alexandre with eight and Jamil Thomas with seven. Konnor Near obtained the lone fumble recovery, while McCloud recorded the interception. Thomas and McCloud each recorded three pass break ups, while Murphy, Jovan Bayless, Jason Williams and Jordan Jones each had 0.5 sacks on the day.
"It was a hard-fought game between two really good opponents," Annese said. "Tomorrow, it's come back [to work] and get after it."
Ferris moves to 5-1 on the season and will be back in action at home against Michigan Tech on Sep. 22 at 1 p.m.