Dr. Jinx Broussard visited Ferris on Oct. 12 to share her life story and inspire students.
Broussard is a Bart R. Swanson Endowed Memorial professor, and she currently teaches public relations, communication and mass media theory at Louisiana State University. She has earned several prestigious awards in the past three years, including the Plank Center for Leadership in Public Relations' Bruce K. Berger Award, which recognizes individuals who are, or have been, full-time educators that have touched the lives and careers of students through mentoring.
Broussard began her speech with a unique question.
"Can you rise to the occasion? I dare you to dream. I dare you to accept the challenge so that you can be resilient," Broussard said.
Broussard's life story contains many examples of her resiliency.
Broussard grew up on a plantation in Louisiana with her parents and six siblings. Her dad worked six days out of the week for six dollars an hour in the sugarcane fields. Although Broussard could have followed her father's path, her parents dared her and her siblings to be different from the other children on the plantation.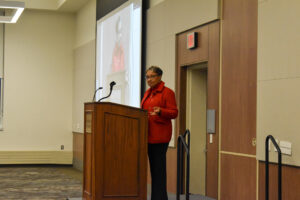 "My parents instilled in us a desire to rise above the occasion, to be resilient, to be curious about the world around us," Broussard said. "They gave us a vision of the world."
From the age of eight or nine, Broussard always watched the nightly news which had a female reporter named Holly on NBC who covered the United Nations. When she saw Holly on the TV, she knew she wanted to be a journalist.
When graduating high school, she faced obstacles and challenges, but she was not deterred from her dream of being a journalist. When kids at school questioned her school of choice, she held her head high, chose Louisiana State and majored in journalism.
During Broussard's college years, she learned that some people on campus did not want Black students to attend Louisiana State. Among other things, Black students were called derogatory names, professors pretended they weren't in their classes and students moved away from where a Black student sat.
"Two hundred Black students enrolled in [Louisiana State] out of more than 2,000. Eight years later, only 10 of us graduated," Broussard said. "It was especially onerous for Black males. They would go to their dormitories, open the door and pockets of feces and urine would rain down on their heads."
Broussard remained resilient and continued working towards her degree, regardless of what other people thought. Four
years later, she was the first Black student to graduate with a degree in journalism in Louisiana State history.
After college, Broussard worked at the Time Picayune Newspaper in New Orleans for a year. During that time, she faced discrimination in the workplace. She had the last desk in the back of the room and, unlike her co-workers, she didn't have a typewriter.
In the office, Broussard was not in charge of writing stories or reporting. Instead, she was put in the mail room. This changed when one of her co-workers, who was her only Black, male co-worker, went to the editor and asked if he could give Broussard one of his stories to cover. Because she did not have a typewriter, she wrote her notes by hand and a considerate co-worker offered his typewriter to her whenever he wasn't using it.
After Broussard's work was published in the newspaper, she was eventually noticed by Dillard University. They offered her a position as the director of news publications.
After accepting her position at Dillard, she was able to create a mass communication program, which she taught, and a public relations sequence for students.
"I did it because I wanted to be a role model, [and] so [I could show] these young grad students… that you can be a journalist," Broussard said. "I did that for 14 years."
Working at Dillard brought more opportunities to Broussard, like being the Louisiana media director for the Clinton-Gore presidential campaign, giving press conferences in front of Air Force One with George Bush in the background and coordinating a visit for Pope John Paul II.
Broussard left the audience with some advice.
"So I say to you tonight, young people especially, dare to dream…. dare to be curious, be resilient [and] accept that dare no matter what it is," Broussard said. "Be resilient and you will succeed."
Not only does Broussard continue to inspire future Black, female journalists with her story, but her current work at Louisiana State is still inspiring her students and anyone else who has a dream and wants to make a difference in the world.