Ferris men's hockey (2-3-1) split the weekend matchup with the Canisius Golden Griffins (1-3-0) this past weekend.
The Bulldogs gave Canisius their first win of the season on Saturday with a 5-3 loss before rebounding and dominating the second game of the series to get a 4-1 win.
Head coach Bob Daniels discussed scoring opportunities in Friday's loss
"We did have some more chances [to score]," Daniels said. "I think right after we scored to make it 4-3, we hit the crossbar on the shot. Pipe-and-in would have been nice. We're getting the looks, [and] we got some chances. You can't tell a guy exactly how to score. You put them in the position to get the puck, and they kind of have that natural goal scorer thing."
Friday's contest started rough for the Bulldogs after letting in two Canisius goals before junior forward Stepan Pokorny was able to net a goal for the Bulldogs.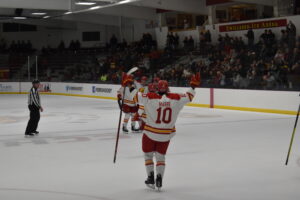 From there, the Bulldogs played catch-up. Canisius went up 3-1 early in the second, which elicited a Bulldog goal from junior defenseman Luke Farthing.
The catchup trend continued into the third after another Canisius goal was followed by a goal from senior forward Jason Brancheau. After Brancheau's goal, Canisius netted an empty net goal to bring the final score to 5-3, Canisius.
Daniels, who was worried about scoring earlier in the season, said that three or four goals in a game should be enough to get a win.
Saturday's game was much different for the Bulldogs, as a recipe of stellar goaltending and an offensive explosion propelled the Bulldogs to their second win on home ice.
The game began with a five minute major alongside an ejection for Farthing. The Bulldogs played strong defensively and killed the penalty right out of the gate.
"I thought the penalty kill was outstanding," Daniels said. "There's an old hockey adage: 'your best penalty killer is your goaltender,' and I thought Noah [Giesbrecht] was really strong during that five minute sequence. If they got the lead, maybe it's a whole different game. By getting through that five minutes and then us getting on the board first, I think that really helped a lot."
The Bulldogs capitalized in the waning moments of the first period when junior forward Mitch Deelstra scored to put the Bulldogs ahead 1-0.
After Deelstra's goal, the Bulldogs brought an onslaught of offense in the second. Senior forward Dallas Tulik slammed a five-hole shot for their second goal, senior defenseman Matt Slick got a breakaway and scored his first Bulldog goal and Pokorny deked his way past the goaltender to slide home the Bulldogs' final goal of the game.
In the third period, only one goal went past Giesbrecht to ruin his shutout bid. However, Ferris kept it together and came away with the win.
Giesbrecht saved 29 of 30 shots in order to pick up his first win of the season. With the first win out of the way, Giesbrecht said he looked to build on it.
Pokorny spoke on the win following his two goal weekend.
"It feels very nice," Pokorny said. "I know it's a big win for us. You know, [Friday] night really hurt. I thought [about it] going through the third period. We were kind of a better team that third period. I thought it would be carried into today's game, and I am glad to get a good start and finish it off."
The Bulldogs will take a week off and prepare to open Central Collegiate Hockey Association play when St. Thomas comes to town on Oct. 28 and Oct. 29.