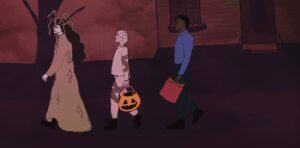 As we approach the end of the month, some of us are gearing up to celebrate Halloween. However, not everyone celebrates the end of October in the same way.
Samhain 
Ferris architectural technology sophomore Bryan Wickenhiser celebrates a holiday called Samhain, which replaces Halloween in his culture.
"I celebrate more of like, a traditional, little pagan holiday that got overlooked by the Catholic Church," Wickenhiser said. "It's rooted in paganism and witchcraft, which is all about the turning of the seasons and the veil between the spirit world and whatnot."
Samhain isn't necessarily a holiday people make a big deal out of. Wickenhiser explains that it's a more "eastern version" of the Day of the Dead.
"It's more of like, your own, little thing," Wickenhiser said. "It's kind of what you make it, and so, traditionally, I would buy the candy and all that fun, kitschy, Halloween, Americanized stuff, but it's more of honoring ancestors that have passed… I'd put up pictures of dead relatives and [just honor them]."
Some symbols people use to celebrate Samhain are objects like smog candles and grouds. These are believed to be used for protection.
The reason behind dressing up is one of the biggest differences between Samhain and Halloween. Dressing up for Samhain is for "scaring evil entities away," rather than just for fun.
Doesn't celebrate any holiday
Ferris information security and intelligence freshman Seth Brott has never celebrated Halloween or any other holiday in October.
When Brott was young, he would stare out his window on Halloween, wondering why he wasn't able to be out there like the other kids. Later on, he asked his parents why they don't celebrate.
"My dad grew up in a religious household… He could not celebrate Halloween due to the fact that it is perceived as devil worship in the Christian community," Brott said.
They also explained other Halloween related dangers, such as getting candy from strangers while trick-or-treating and being alone out at night on a busy and scary holiday.
"My mom explained how she grew up with kids who were sexually assaulted while trick-or-treating," Brott said.
Halloween
Criminal justice freshman Alexis Moreland loves to celebrate Halloween.
Moreland remembers her first time dressing up. She's known since then that she loves this holiday. To her, it's the one day she can be anything she wants and "no one can judge her."
"I have been celebrating since I could walk," Moreland said. "My first time dressing up, that I can remember, is being a raccoon. Since then, I knew I loved celebrating Halloween, and I couldn't wait to do it every year."
She celebrates in a way that most people do by dressing up and trick-or-treating with friends.
"It's fun because at this point it feels like a tradition and is one of the funniest days of the year," Moreland said.
For first-timers, Halloween can be intense and frightening, according to Moreland. She believes that it's important to be cautious while having fun.
"If you are celebrating for the first time this year or going by yourself, the main thing is to be cautious [and] have fun," Moreland said. "We have seen bad things happen on Halloween. Make sure someone has your location so you can be tracked if needed."
For more information, check the event calendar in this edition's News section for some festive Halloween activities.