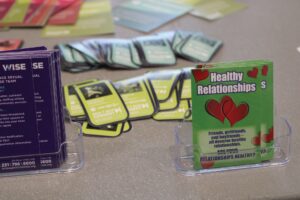 The Domestic Abuse Shelter, a non-profit organization, states that 4,000 women die each year due to domestic violence, and one out of every three women will be abused by their partner at some point in their life.
Throughout the month of October, Ferris' Anti-Violence Alliance aims to raise domestic violence awareness. To further this goal, the RSO hosted a tabled event in the David L. Eisler Center on Wednesday, Oct. 12, for Wellness Wednesday.
They gave out free pin buttons, stickers, coloring books, bracelets and infographics about domestic violence. The goal was to share information that is oftentimes overlooked within the community.
"Wellness Wednesday is our way of saying we want people to have access and knowledge to health," psychology senior and AVA member Sydney Mingori said. "We try to get resources out there to show people what unhealthy relationships look like and red flags to look out for."
The AVA works towards educating the community on domestic violence signs and services. They strive to provide a safe, comfortable and accessible environment for domestic violence survivors.
The table was targeted toward love languages. Learning about love languages can help a person form healthier relationships with friends, family and significant others.
"Specifically for this Wellness Wednesday, we wanted to show people there are different ways to receive love, and there are different ways you can show love," Mingori said. "We want people to know these things so they can better support their partners and friends."
There are five main love languages, and the table had information on each. Love languages can measure the ways our "love cup" gets filled or, in other words, how all our specific personal needs are met.
Illustration sophomore Kalen Johnson believes that people should be upfront with their wants and needs.
"I think miscommunication and not knowing how to appreciate the person you care for in the ways they need is unhealthy," Johnson said.
After hearing a bit about the AVA and picking out a "love shouldn't hurt" pin, English education freshman Samantha Knuver thought that the table did a good job spreading awareness in a "not-so-dark way."
The AVA will continue to hold tabled events like this throughout the month of October in order to further raise awareness and provide education and training to prevent sexual assault, domestic violence and stalking.