The roar of fans filled the student recreation center, cheering both the Ferris hockey team and the Area 5 Special Olympic team. On Tuesday, Oct. 18, the teams went head-to-head in a friendly poly hockey match.
The student section showed up with bright spirits and posters filled with encouraging messages for the players. Students and parents maintained high spirits while Ferris took the loss against the Special Olympic team.
The Area 5 Special Olympics program aims to provide year long competition in a variety of sports to children and adults with intellectual disabilities. The athletes in the organization have opportunities to get involved in physical fitness and develop friendships within the community.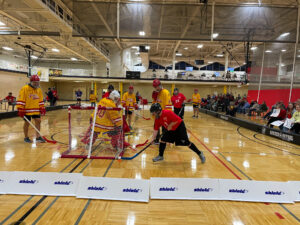 "Events like this help raise awareness and create an inclusive environment," Special Olympics College Club president and pre-medicine senior Dakota Young said.
Young runs the Unified Champion Club, which involves all the events with the Special Olympic athletes. She has also coached an Area 5 hockey team and sits on the board of the management team for the Special Olympics.
"I feel like the community kind of knows a little bit about [Special Olympics] but doesn't know how to get involved… so events like this can get them involved, and it just shows their support for their community members," Young said.
Young and others on her team strive to provide a safe environment for all of the Special Olympians and encourage others to get involved in raising the spirits of others.
The poly hockey exhibition was organized and put on by Ferris' Sports Careers RSO and Special Olympics College Club. The event was meant to bring together Special Olympians, Ferris athletes, sport communication students and fans.
"We had a little bit of a hiccup [because] it was a little struggle to get started at our seven o'clock start time, but everything works, and once it works, you just let it go and it plays itself," survey engineering junior Niko LaGreca said.
LaGreca is a part of the Sports Careers RSO. He took photos and helped set up and tear down the event.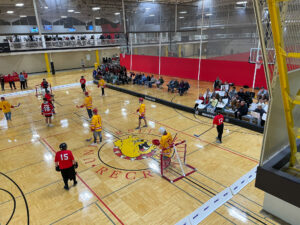 "When I was taking pictures, a Special Olympian scored, and the entire sideline went nuts," LaGreca said.
He noted that this is a giant unification event for the athletes, fans and those running the event.
Business administration sophomore and Ferris hockey player Kaleb Ergang was the coach for Tuesday's poly hockey game. Ergang said that his team's strategy was to give the puck to their star player of the night, Tyler Cylerlawton, an incoming freshman in the general education program.
"Cylerlawton put up five goals tonight. That puts a smile on all our faces," Ergang said. "Events like this are rewarding [because] everyone's involved, and we can all get together to enjoy this sport."
Cylerlawton was the captain of the Special Olympic hockey team, where he coached and supported his fellow players. After 16 years on the ice, this was Cylerlawton's last game. Cylerlawton wishes his teammates from Area 5 and Ferris the best of luck in their upcoming season.