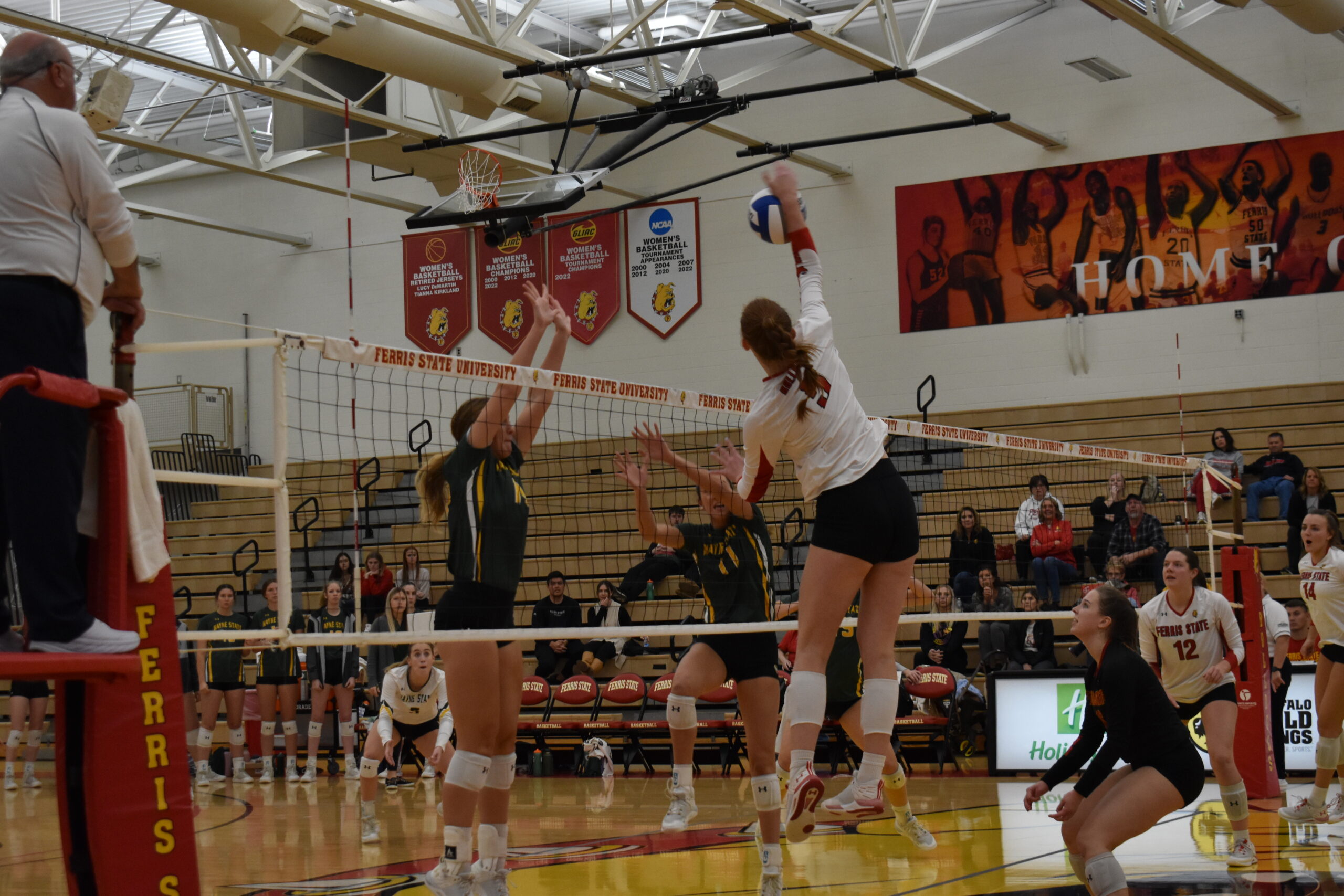 The Ferris volleyball team lost a hard-fought match on Thursday when they took on Wayne State in a GLIAC matchup. The Bulldogs now move to 15-9 on the season and 10-2 in GLIAC play after Thursday's loss.
This is undoubtedly a match the Bulldogs had multiple chances to walk away with a win. The Bulldogs lost the first set 22-25, and then they bounced back by winning the second 25-18 and third 25-13 sets. After the third set, Ferris held a 2-1 advantage going into the fourth set, but they lost that set 25-22.
The fifth and final set tied it all up. Back and forth points in a close set signaled that the Bulldogs were looking to pull away, but they could not get the match point to end the match. Wayne State then rallied to score three straight points to end the match.
"I think Wayne State probably wanted the game a little bit more," head coach Tia Brandel-Wilhelm said. "I thought they played pretty hard, and they… recovered from things a little bit better than we did. Obviously, we're disappointed with the result."
This was a heartbreaking loss for the Bulldogs, as they looked to get back on a winning streak following their loss last weekend.
The Bulldogs were led in points scored by Olivia Henneman-Dallape with 20.5. Syann Fairfield added 16, Kaylee Maat added 12, Claire Nowicki added 11.5, Chelsie Freeman added 11 and Emma Bleecher added nine points. The Bulldogs were led in kills by Henneman-Dallape with 20. Fairfield added 10, Nowicki and Freeman both added eight, Bleecher added seven and Maat had five.
Maat led the team with 51 assists. The Bulldogs had four other assists in the match, which came from Henneman-Dallape, Bleecher, Leah Bylut and Hannah Tecumseh, who each had one assist. Bylut led the team in digs with 25. Alina Anderson had 16, Maat had 15, Bleecher had 12, Nowicki had nine and Fairfield had three. Three other Bulldogs, Henneman-Dallape, Freeman and Tecumseh, each added one dig.
The Bulldogs fought hard in this match but lost a tough one at home.
"I think it was lacking at times," Brandel-Wilhelm said regarding the team's effort in the loss. "We're still a young team and we're getting better."
The Bulldogs will have two home games this upcoming weekend as they take on Grand Valley State on Friday, Oct. 28, at 5 p.m. and Purdue Northwest on Saturday, Oct. 29, at 3 p.m.