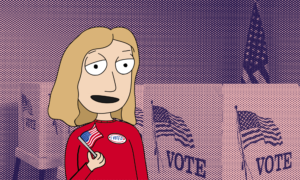 Aug. 4, 2020, is a day I remember like it was yesterday. 7:03 a.m., groggy, half-dressed, still in my basketball shorts from the night before and not having had a chance to put in my contacts yet. I walked into the Mecosta Township Hall rec room, filled out a card and flashed my ID. Moments later, I was standing in a booth, sharpie in hand, voting for the first time.
I had been looking forward to this day since I was 13 years old. Sure, voting in a primary isn't thrilling on its own, but voting in 2020, and for the first time no less, made it an unforgettable experience. I meticulously bubbled in my choices, taking special care not to cross vote, and fed my ballot into the tabulator with a huge grin across my face.
I wore that "I voted" sticker like a badge of honor that Tuesday. I finally got to use my voice by way of my vote. Even though I was just one vote in an election that had a turnout of just over 2.5 million voters in this state alone, I felt like I was a part of something bigger.
Since that election, I wanted to do more and get more involved in that process. So, I got certified as an election official and started to help run my local polling location. I know it's not most people's typical idea of fun or how they'd want to spend a Tuesday, but it was just amazing to be involved.
I started off at the check-in table, helping people understand their ballots and ensuring they had as much direction as I could give them. The part that gave me the most joy was helping those with what I had done just one election prior—vote for the first time. I took time to answer their questions and tried to make it as unforgettable of an experience as my first time was.
Once the doors closed, I got to help ensure the quality of our count and diligently worked to certify the precinct properly and securely. While it's a tedious process, it's one that's taken very seriously and done with great care. Arriving home just after 2 a.m. on Wednesday, I couldn't wipe the smile off my face.
I then moved to the absentee counting board. We were the ones who ensured that all of the mailed-in ballots were valid, accounted for and counted. This takes a special amount of dedication, as those running the absentee counting board must be sequestered for the entirety of their count and certification process. I don't know too many people besides myself that would take that on. I am more than happy to do that, though, because of what it means.
Giving the people their voice is my goal at the end of the day. Whether it be through working elections or this very paper you're reading, that's what puts a smile on my face. If you haven't already made a plan to voice your vote, don't fret, it's not too late to get registered to vote or request an absentee ballot. Go vote and let your voice be heard.