It took a hard-fought game against Michigan Tech, but the Bulldogs ensured that their losing streak ended at one game.
A week after dropping their first regular season game in 44 tries against Grand Valley, Ferris returned home to face Michigan Tech. The Bulldogs came away with a 28-20 victory, despite trailing 10-0 early, earning 12 penalties for 126 yards and not having starting quarterback Mylik Mitchell, who did not play due to an injury.
Head coach Tony Annese described the performance as a "huge win" in a "very challenging game."
"[Michigan Tech] jumped out ahead of us," Annese said. "We had our back against the wall early, but our kids [ground] through it. Every win is obviously important, but when you play a team like Tech, who is viciously competitive, and they get you down a little bit, you just try to hang in with it."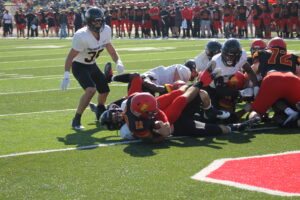 Annese added that he had "no idea" how his team was able to overcome the penalties and record a win. He mentioned that between Grand Valley and Michigan Tech, there were 77 passes and zero holding penalties against those teams.
"These offensive lineman from our last two opponents must be extraordinarily good at never holding," Annese said. "I don't know if you get sarcasm in my tone or 'what the heck is going on' in my tone, but it's mildly confusing for me."
Ferris (6-1, 2-1 GLIAC) held the Huskies to -26 yards rushing and got four total touchdowns from quarterback Carson Gulker during the win.
"I just trusted everyone to do their job," Gulker said. "Evan [Cummins] was over on the sideline in my ear helping me out to succeed. We just put our trust in each other."
Cummins drew the start at quarterback for the Bulldogs, and Ferris received the opening kickoff but quickly went three-and-out. Michigan Tech wasted no time and entered the red zone off their first play from scrimmage, thanks to a 76-yard reception from Brandon Michalak. They capitalized with a five-yard touchdown just three plays later.
The Huskies added a field goal with just over a minute remaining in the first quarter to jump out to an early 10-0 lead over the #4 ranked Bulldogs. Ferris answered with a touchdown from Gulker midway through the second quarter and entered the half trailing 10-7.
"I was happy that it was only 10-7," Annese said. "We struggled a little bit with rhythm on offense. They played a four-man front, and we anticipated a three-man front."
Gulker started the second half at quarterback for Ferris and remained in for the rest of the game. He led a 12 play, 52-yard touchdown drive for Ferris' first drive in the second half after the defense forced a punt from Michigan Tech. Gulker capped off the long drive with a one-yard rushing score, his second of the game.
Gulker rushed for his third touchdown of the game at the start of the fourth quarter. This score was a seven-yard designed quarterback keeper where he fought through defenders into the endzone for his NCAA DII leading 16th rushing score of the season. It also gave the Bulldogs a 21-10 lead.
Michigan Tech tried to answer back, but Ferris' defense forced a three-and-out. However, on the ensuing possession, Gulker threw an errant pass that was intercepted and returned for a Husky touchdown.
"With the exception of one really big mistake, [Gulker] played really well," Annese said. "I'm really proud of him."
On the first play of the next offensive sequence for Ferris, Gulker responded and found Tyrese Hunt-Thompson for a 75-yard touchdown and pushed the lead back to two scores at 28-17.
"When I came to the sideline, I had a lot of people telling me to keep my head up," Gulker said. "The next play, I was ready."
A field goal from Michigan Tech's Drew Wyble kept the Huskies within a score. Down 28-20, they forced a Bulldog punt and had a chance to tie the game.
Ferris gave up a quick first down, but then Ian Hall and Jordan Jones combined for a sack to push the Huskies back. With the game on the line, the Bulldog defense held and forced a turnover on downs, sealing a 28-20 victory.
"It's just pure heart for a lot of our players," senior linebacker Jovan Bayless said. "I had a lot of heart for this game. The guys on the field with me have a lot of heart and will keep going no matter the situation we're in. We're not going to let off the pedal. We're going to keep fighting for the goal we want."
Gulker finished the game with 174 passing yards, a touchdown through the air, 103 yards and three touchdowns on the ground with 23 carries. Marcus Taylor contributed 11 carries for 60 yards, while Hunt-Thompson finished with four catches for 130 yards and a touchdown.
Hall led the way defensively for Ferris with four tackles, .5 sacks, 1.5 tackles for loss and a forced fumble. Caleb Murphy recorded a sack and Sidney McCloud had an interception. As a team, the Bulldogs gave up 271 yards of total offense, including -26 yards on the ground.
"It was good for us to get back to that winning mentality," Gulker said. "Coming off that loss, we kept our spirits high in practice all week, and it's just good for us moving forward."
Ferris will finish out the month of October on Saturday, Oct. 29 at Northern Michigan. For more information on Bulldog football, visit ferrisstatebulldogs.com/sports.