Halloween is a time for spooky ghouls and ghost stories, of course, but what happens when the things that go bump in the night are actually people we know?
This is the premise of "Midnight Mass," Mike Flanagan's Netflix miniseries that shocked audiences with its brutality. This was Flanagan's return to form after the lackluster effort that was 2020's "The Haunting of Bly Manor," which is the follow-up to the previous year's "The Haunting of Hill House."
For me, "Midnight Mass" is Flanagan's masterpiece. It's definitely not the emotional and gut-wrenching juggernaut that "Hill House" was, but it is so endlessly fun and rewatchable for the Halloween season. While "Hill House" is a masterpiece in its own right, "endlessly rewatchable" is not how I would describe it.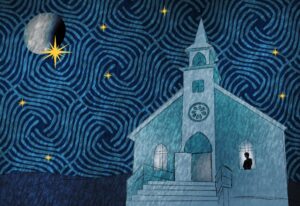 "Midnight Mass" takes place on a secluded island, presumably in the North Atlantic Ocean because the town is heavily focused on crab fishing, and examines the eccentric residents of Crockett Island, a town deeply set in their religious ways.
The main character of the show is Riley Flynn, a recovering alcoholic who is recently released from prison for killing someone in a drunk driving accident, and we follow him as he returns home to the faith he previously left behind. There he reunites with his former girlfriend, Erin Greene, who has just gotten divorced and has returned to the island to raise her child. These two become the main crux of the show and interact consistently with the highly religious and domineering Bev Keane, the mysterious Father Paul and Sheriff Hassan, whose Muslim beliefs often clash with Keane's Christian ones.
Every time I watch a Flanagan show, whether I enjoy it or not, I am consistently surprised at how well he incorporates different relationships into his scripts. As I mentioned before, "The Haunting of Bly Manor" isn't my favorite show of all time, but it had a great love story at the center that made the ending all the more upsetting.
Flanagan knows how to make you care about a character, and he makes the real evil in the story the other humans, rather than a monster or ghost. I won't spoil anything about what actually happens in "Midnight Mass," but the "monster" in the show isn't really the evil Flanagan wants you to be afraid of, it's the greed of the people on the island.
I never thought that I would go to bat so hard for a religious horror show, since I have never been religious, nor did I grow up in a family that was at all religious, but the way Flanagan writes it so that it's really greed and selfishness that is corrupting the townspeople, rather than religion, is really smart and not something a lot of writers do.
Another thing the show does incredibly well is slowly building an intense sense of dread over each scene throughout the show. A lot of people stop after the first or second episode because it focuses on this slow type of world building, but I always say watch the first three episodes, and if you somehow don't like it after the third episode, then you probably won't like it at all.
With the Halloween season drawing to a close, I would recommend everyone go watch this show before I spoil too much about it. Learn as little as possible about this show and dive in headfirst, as is recommended for all Flanagan shows.