After a 22-9 record and a trip to the national tournament in the 2021 season, the Bulldogs will look to replicate that success after a clean sweep in their pre-season Canadian tour.
The team travels across international lines once every four years, and the late August trip set up an exciting and valuable experience in Toronto. Through three games played against the Canadian teams, Ferris tallied 275 points, with two games having 100 points scored by the Bulldogs, while averaging 91 points in each game for the trip.
The Bulldogs lost Walt Kelser, Logan Ryan, Dorian Aluyi and Lee Higgins from last years' team. These players combined for 54.5 points per game. Replacing that production is never easy, and head coach Andy Bronkema had to adjust his lineup in hopes of creating an offensive spark.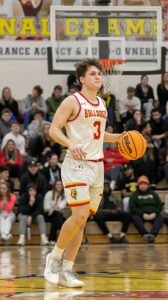 "It's important for the returners because they're in new roles," Bronkema said. "There's very few of our guys that are in a similar role to where they were last year."
Players stepping into new roles include sophomore guard Ethan Erickson. Erickson was one of the many three point threats from last years' team that averaged 8.7 threes per game. Averaging 11 minutes in 31 appearances, he amassed a 35% three point percentage and 3.6 points per game. Despite his limited minutes last year, the sharpshooter will be expected to take a larger role in the offense.
Sophomore guard Jimmy Scholler started all 31 games last year and averaged nearly five assists per game. Redshirt junior Vejas Grazulis is also in line for expanded minutes. He played backup to Ryan last season and averaged six points and three rebounds per game in 31 appearances.
Last season's sixth man of the year Ben Davidson will be a key part of the Bulldog rotation. His 11 points per game last year suggests a potential takeover ability for the 6'1" guard. Sophomore forward Deng Reng will make his return to the floor this season as well after missing much of last year with an injury. Reng's versatility and athleticism at 6'9" offers a high upside on both ends of the floor.
"Everybody is either up on the scouting report with higher emphasis or maybe playing a different position," Bronkema said.
In addition to his renowned recruiting skills, Bronkema hit the transfer portal in the off-season. Redshirt junior transfer Dolapo Olayinka, who originally started at Northern Michigan University, and Solomon Oraegbu, who transferred from Wisconsin Parkside, bring valuable GLIAC experience. The final transfer, junior Amari Lee, finished his time at Roberts Wesleyan and brings skills from a competitive NCCAA conference.
"Experience and depth will be our strongest suits," team manager Isaac Culp said.
Ferris will face Calvin in an exhibition contest at home on Saturday, Oct. 29, at 7 p.m. before heading to Ann Arbor to play Michigan on Nov. 4. Then they will participate in the Robert Garrett Crossover Classic in Nashville, Tennessee. 
A rematch against the University of Minnesota-Duluth, who not only made it up to #9 in the national rankings, but also beat Ferris in a thrilling 109-107 offensive shootout last season, awaits on Nov. 19.
GLIAC play begins against Grand Valley on Dec. 1. The GLIAC is expected to be a tough conference, headlined by Davenport, the reigning conference champions. Perennial contenders in Grand Valley and Michigan Tech are among the teams to keep an eye out for as well.
"We are all locked in, motivated and hungry to continue our winning culture," Davidson said.
The annual Alumni game on Sunday, Oct. 23, saw the Bulldogs record a 107-69 win over former Ferris players. Oraegbu and Erickson led with 21 and 18 points, respectively. With the start of the regular season closing, the Bulldogs hope for continued success from a new lineup.